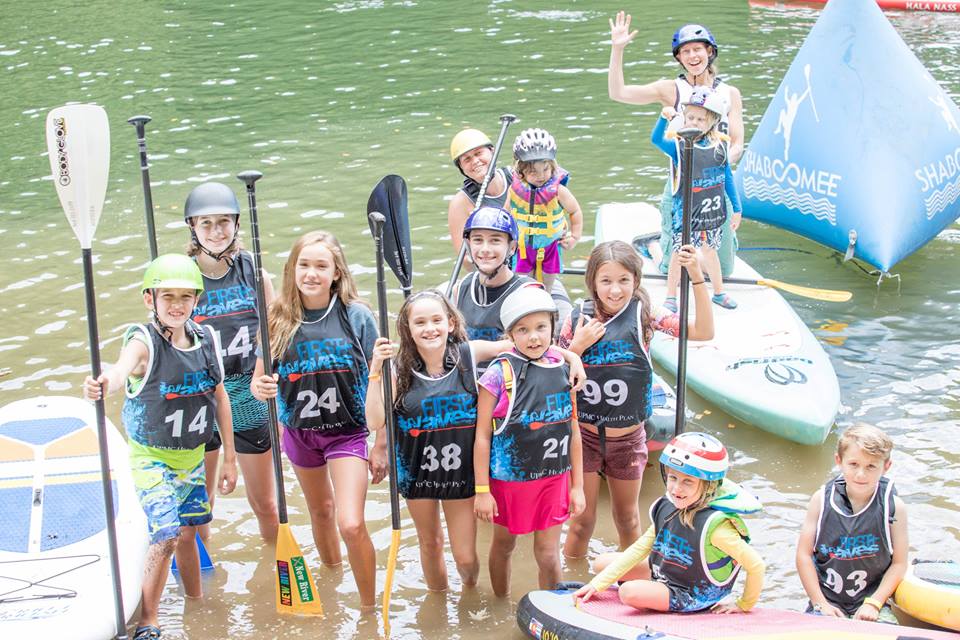 The New River Gorge Stand Up Paddle Board Race powered by Active Southern West Virginia
Active Southern West Virginia's mission is to increase opportunity for physical activity. With an executive director who has a life long passion for paddle sports, it is easy to see the connection between the world's fastest growing paddle sport, SUP, and the mission to increase access in southern West Virginia. This year the New River Gorge SUP Race offered multiple races to appeal to a wide variety of abilities; Youth, Attainment, and Downriver.
Youth Stand Up Paddle Board Race
The day started with the Youth SUP Race, West Virginia's first kids paddle board race! Racers were pre-approved to paddle in either category; "All By Myself" or "Parent on Board". The course began at the upper beach at Fayette Station, DJ Zeke provided motivational tunes, and the little racers were off heading upstream to a large buoy and back to the start line. It was an exciting 7 minutes!
The Attainment SUP Race
The second race of the day, the Attainment Race, offered an intermediate skill course where paddlers race upstream against the river's current, around the large boulders in the class 1 rapid Thread the Needle, and return to the start line. The most exciting part being the mass start where the chop of 45 paddles jostles each racer as they try to gain ground on those around them.
The Downriver SUP Race
West Virginia's only whitewater stand up paddle boarding race. This year the river levels cooperated to include the challenging Fayette Station rapid in the third race event of the day, the Downriver Race. This is where true paddle board athletes shine. Ian Smith, owner of SurfSup Adventures and founder of First Waves, and Christian Shaw, founder of Plastic Tides, lead the pack of racers through the first whitewater. Spectators cheered as 45 racers got tossed in multiple directions passing and getting passed.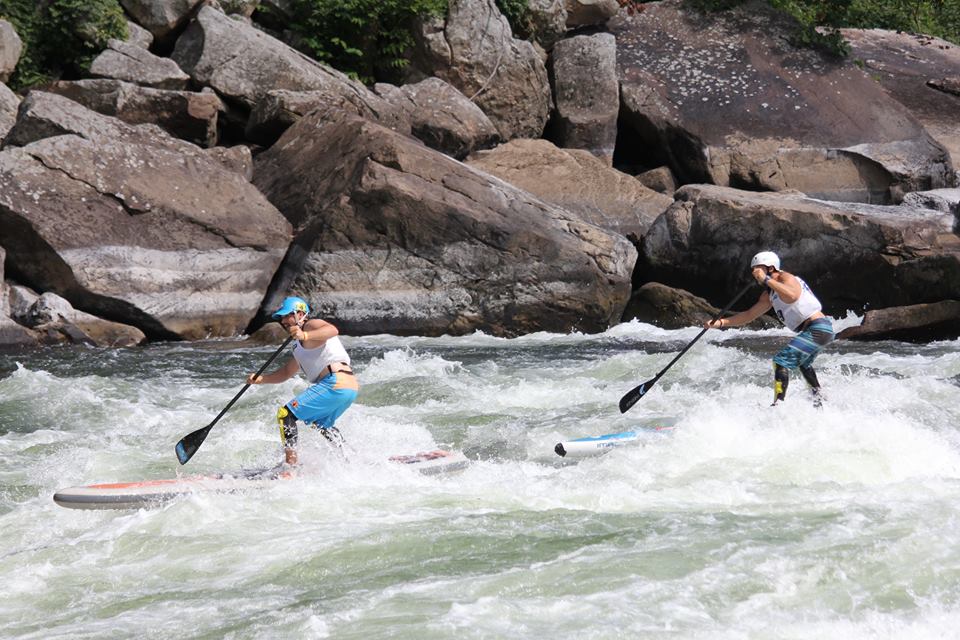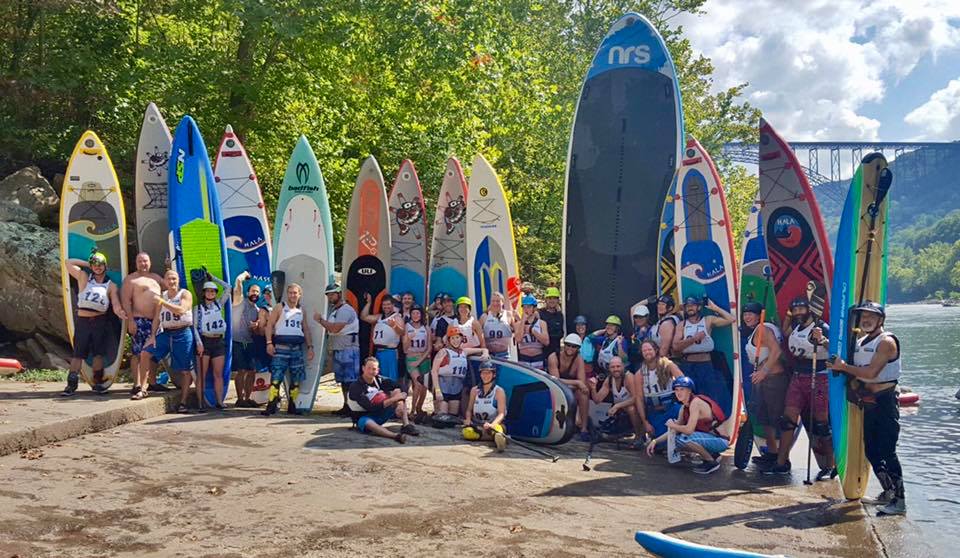 What is Means for West Virginia
It was a day for the WV history books. This group of paddlers continues to grow every year by encouraging their friends and families to be active with them. It takes face to face invitations to help others try new activities. Active Southern West Virginia works every day to provide free outdoor physical activity programs year round. Check this webpage calendar for the next program you can attend with your family; www.activeswv.org/calendar.
Proceeds from this SUP race are donated to the Fayette County 4-H Outdoor Adventure Club where gear and outings are provided to get local high schoolers biking, climbing, paddling, skiing, hiking, and appreciating their backyard recreation.
This event is made possible by the passionate volunteers; Glenda Crawford, Brian Good, Brad Scott, Rocco, Jeff Shields, Vince Nicolau, and Zeke Smith.
Amazing photos provided by; Carl Galie, Deb Stipa, Candace Evans, Brent Lewis, Kate Armentrout, and Vince Nicolau.
Additional event photos here.
Sponsors
Race Results
| | |
| --- | --- |
|   | Youth Race |
| 1 | Kalila Hames |
| 2 | Delaney Hames |
| 3 | Evan Nicolau |
| | | | |
| --- | --- | --- | --- |
|   | Attainment Men |   | Attainment Female |
|   |   |   |   |
| 1 | Christian Shaw |   | Meghan Roberts |
| 2 | Ian Smith |   | Wendy Scott |
| 3 | Jonah Logan |   | Anne Katino Linn |
| | | | |
| --- | --- | --- | --- |
|   | Down River |   | Down River |
| 1 | Christian Shaw |   | Wendy Scott |
| 2 | Ian Smith |   | Jill Martin |
| 3 | Trey Knight |   | Laura Palin |
| | | | | |
| --- | --- | --- | --- | --- |
| Participant | Racer Number | Attainment | Down River | Overall |
| Cameron Satterfield | 121 | 1700.34 | 2140.25 | 3840.59 |
| Ian Smith | 71 | 1331.19 | 1153.35 | 2484.54 |
| Jack Nelson | 90 | 1449.91 | 1240.31 | 2690.22 |
| Keith Peck | 108 | 2209.21 |   | 2209.21 |
| Travis Hames | 125 | 1434.86 | 2246.66 | 3681.52 |
| Meghan Roberts | 15 | 1524.74 |   | 1524.74 |
| Joe Jett | 46 |   | 1926.36 | 1926.36 |
| Melanie Seiler Hames | 92 | 1615.25 | 2228.76 | 3844.01 |
| Christian Shaw | 139 | 1323.63 | 1139.03 | 2462.66 |
| Garrett Napier | 123 | 1937.39 | 2143.99 | 4081.38 |
| Jill Martin | 26 | 2553.16 | 1825.8 | 4378.96 |
| John (Trey) Knight | 43 | 1346.09 | 1158.58 | 2504.67 |
| Laura Palin | 119 | 1942.69 | 1833.12 | 3775.81 |
| Gideon Casto | 114 | 1732.43 | 1338.5 | 3070.93 |
| Wendy Scott | 142 | 1703.3 | 1603.88 | 3307.18 |
| Jimbo Navy | 113 | 2059 | 1757.19 | 3816.19 |
| Juan (GMO) Loria | 91 | 1403 | 1228.44 | 2631.44 |
| Hilary Nicolau | 132 | 1954.11 |   | 1954.11 |
| Landen Napier | 77 | 1705.07 | 1455.74 | 3160.81 |
| Anne Katona Linn | 100 | 1759.44 |   | 1759.44 |
| Jason Kopp | 29 | 1417.16 | 1217.15 | 2634.31 |
| Evan Young | 122 | 1544.74 | 2005.01 | 3549.75 |
| Randy Fisher | 30 | 1529.33 |   | 1529.33 |
| Andy Hinton | 75 | 1712.67 | 1356.19 | 3068.86 |
| Roger Hager | 57 | 1903.36 |   | 1903.36 |
| Sabrina Pringle | 116 | 2144.89 |   | 2144.89 |
| Dominque Williams | 103 | 1745.42 | 1332.76 | 3078.18 |
| Jonah Logan | 80 | 1336.76 | 1234.47 | 2571.23 |
| Mark Palladino | 109 | 1932.34 |   | 1932.34 |
| Haley Satterfield | 110 | 2137.49 | 2207.45 | 4344.94 |
| Elizabeth Davis NRS Group | 44 | 1805.64 | 1406.79 | 3212.43 |
| Andy Warwick | 128 | 1736.46 | 1416.56 | 3153.02 |
| Peter Quigley | 47 | 1621.55 | 1422.28 | 3043.83 |
| Ethan Quigley | 97 | 1343.3 | 1519.16 | 2862.46 |
| Tom Samples | 99 | 1624.32 | 1556.01 | 3180.33 |