Active SWV would like to introduce you to Sarah Edwards, our December Community Captain of the Month. Sarah is a High Fitness instructor. High Fitness is a high energy mix of cardio and toning (arms, abs, legs). No equipment is used. All moves are easily modified making the class appropriate for all ages and fitness levels. With temperatures dropping our indoor programs will help to keep you moving through the winter.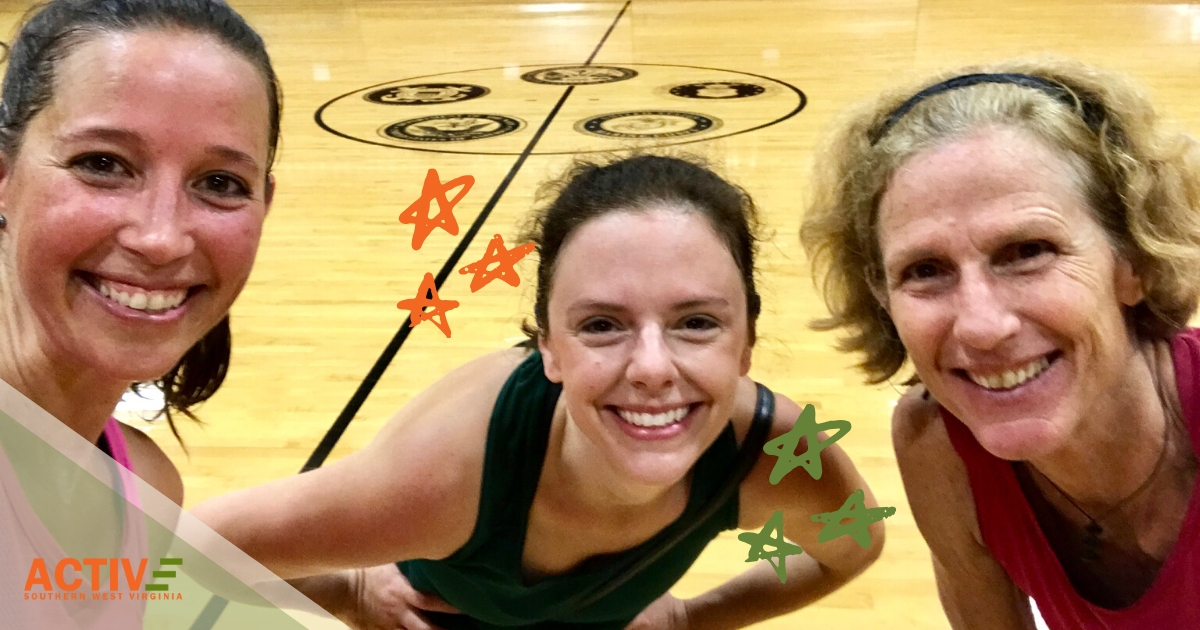 1. Tell us about yourself.
My husband, Jeff and I moved to Fayetteville last year from Morgantown, WV. We are both from Beckley and have loved the NRG since we were little. In Morgantown, I worked at WVU Medicine as a Registered Dietitian / Diabetes Educator. With the move, I transitioned to working with Jeff- opening a brewery (The Freefolk Brewery) and on other business ventures. I recently started counseling clients in the PEIA Weight Management Program at Active Fitness in Oak Hill. We have a 21-year-old son, Seth, who stayed in Morgantown for school. He is a kind human and we are very proud of the person that he has become. Our pets are very special to us: a dog, Luna and cat, Cookie Jr. (CJ).
2. Why are you Active? How did you start?
Physical activity has always been a part of my life. As a kid, my brother Drew and I were on the swim team at the YMCA. My parents, Andrew and Sherry encouraged us to lead active lifestyles. We used to visit my grandparents in NC. Along the way, my dad would often stop at a hotel to "run the stairs" for physical activity and to get his blood moving. That inspired me to think about how I can overcome barriers to being active and make activity a priority.
3. What motivated you to volunteer with Active SWV in your community?
I first learned of Active SWV when I ran the Bridge Day 5k a few years ago. I was inspired by the mission to promote health and wellness. I started taking High Fitness classes in Morgantown and became addicted. After moving to Fayetteville, I started to miss it. So last year, I decided to become a certified High Fitness
instructor so I could teach and share with others.
4. How do you stay motivated? Why is being active a priority for you?
My husband pokes fun at me sometimes for being a High-Level Planner (HPL he says). I make a point each week to schedule physical activity: Active SWV running group, Active Fitness classes, jog with friends and hikes with family. I feel that when I schedule activity- it helps me to follow through. It's also a good way to connect with friends and family. If I am having a stressful day, getting active always makes me feel better and love sharing it with others. Sometimes, I will laugh to myself after High Fitness class when I think, I couldn't be in a bad mood right now- no matter how hard I tried.
5. Why do you think someone should join an Active SWV free program?
Aside from the health and cardiovascular benefits of physical activity, I feel that the social and psychological benefits are priceless. Now, more than ever, I feel that it is vital that humans connect with one another in person. Active SWV offers a variety of programs that suit all ages and levels. We are fortunate to have this program in southern WV.
6. Do you have any words of encouragement for people thinking of becoming a
Community Captain or interested in committing to becoming more physically active?
Being a Community Captain has helped me make a lot of connections with others. It is a very rewarding experience to lead others as we all make steps toward wellness.