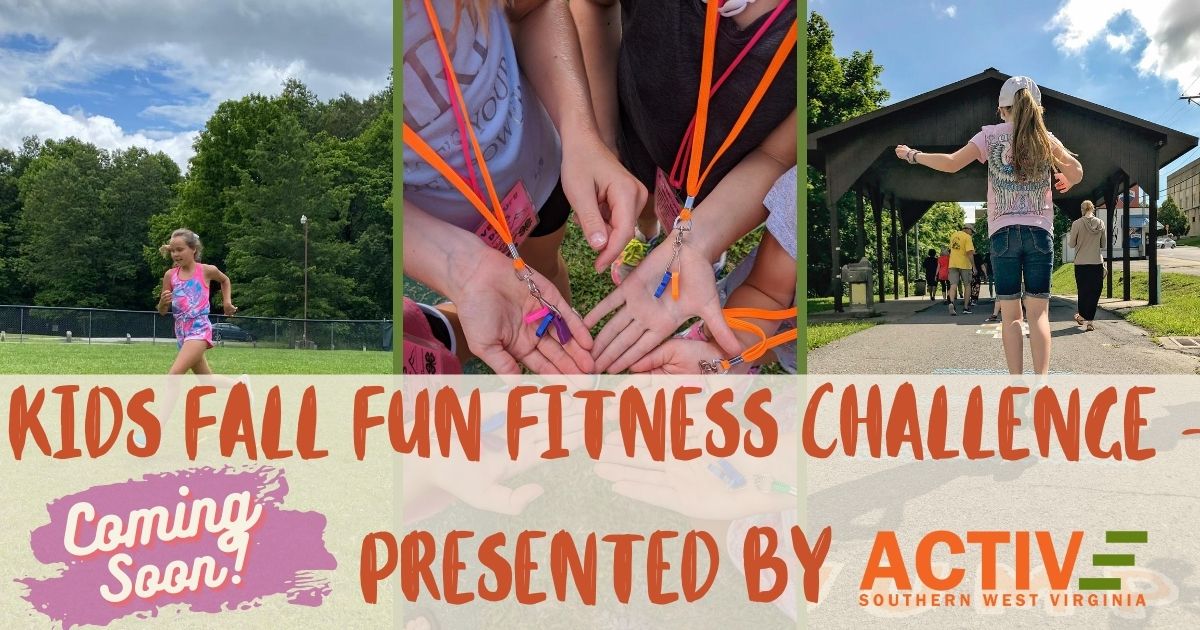 Kids Fall Fun Fitness Challenge Presented by Active SWV – Coming Soon!
Active SWV is developing a virtual Kids Fall Fun Fitness Challenge that you can do anywhere. This free 7 week challenge is set to launch at the end of September, and participants will get prizes for taking part.
Anyone may participate, whether you are part of an in-person Kids Run Cub or not
Stay tunes for more information on challenges and registration info – coming soon!
Please contact india@activeswv.com with any questions
Kids Run Club at Home
In the meantime, you can try out Kids Run Club workouts from home. If your school isn't having a Kids Run Club this fall but you still want to follow the structure and be active at home, you can! The following guide will help you put together fun weekly workouts until the virtual Active SWV Kids Fall Fun Fitness Challenge launches.
At a typical Kids Run Club practice, participants will warm-up, do some running, play a game or other activity, and finish with some form of a cool down. Take a look at the resources below and recreate a Kids Run Club workout in whatever space you have available. Use one of these sheets every week to track and record the activities you've done.
Dynamic Warm-Up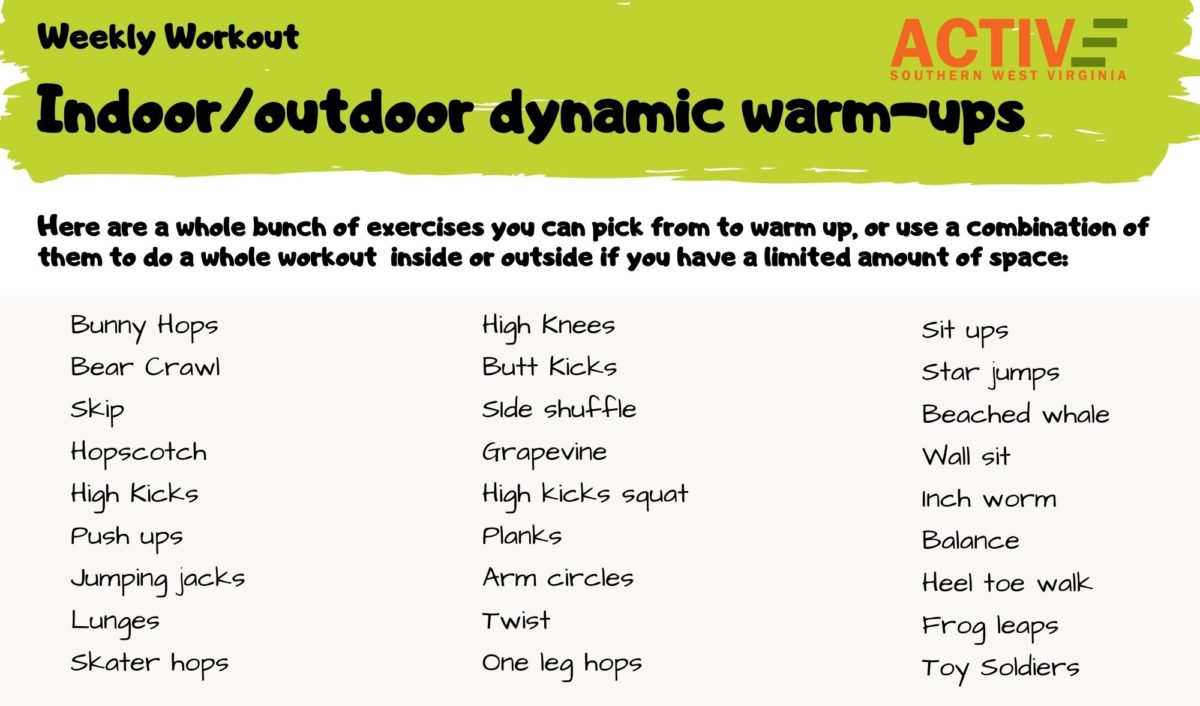 Your warm-up can be a brisk walk or a slow jog, followed by some of these exercises. This is a great way to get your muscles warmed up and ready to run.
Spend 5-10 minutes on your warm-up.
Look here for some printable PDFs of warm-up exercise signs
Also see page 10-11 and 31-35 of our Kids Run Club manual for examples and pictures of how to do more warm-up and stationary dynamic exercises.
Running Exercise
Click here for 6 weeks of Kids Run Club Weekly Workouts, pulled from the Kids Run Club Manual's training plan. Try working up to running a mile in week 6! It's important to challenge yourself, but runners are always encouraged to walk at any time if they need to.
Game or Other Activity
Kids Run Club practices incorporate group games into workouts to keep activity fun and engaging. Check out these games and other activity ideas that have been adapted to play with fewer people.
Click here for Active SWV Kids Run Club exercise Bingo cards.
For more group game ideas, see page 16-23 of the Kids Run Club manual.
Cool Down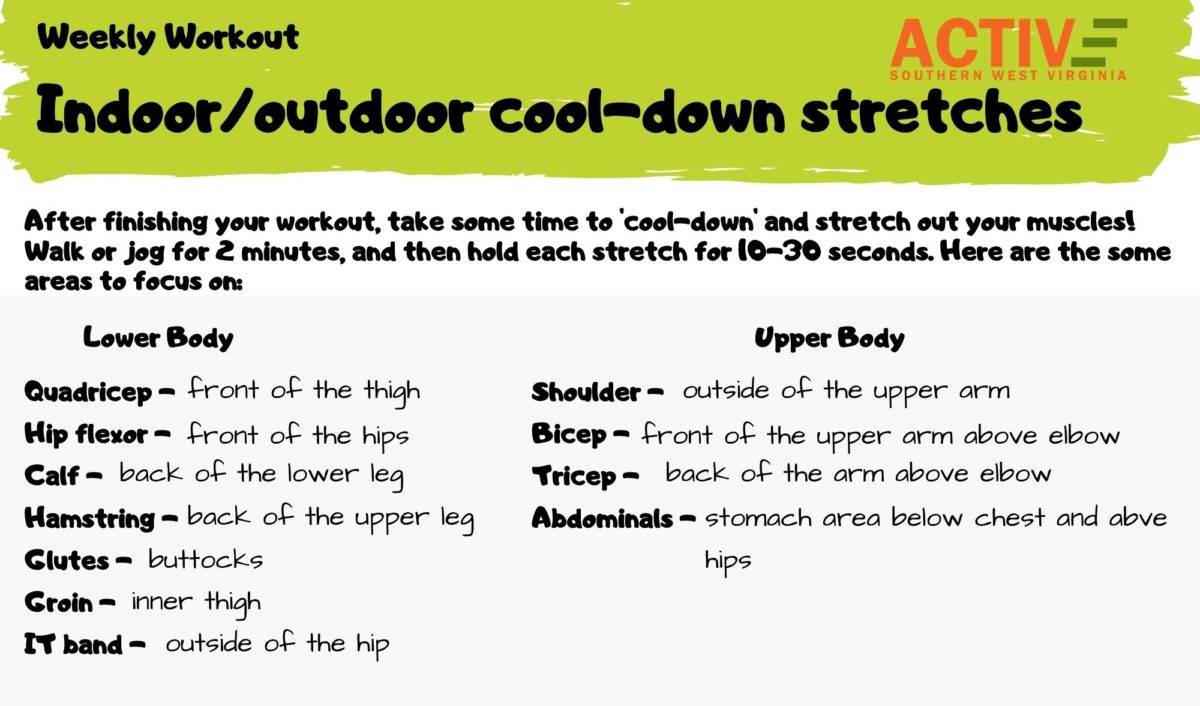 To cool down after running and exercising, do a brisk walk or jog for two minutes, followed by some of these cool-down stretches.
Spend 5-10 minutes on your cool-down.
Here you'll find printable PDF signs of cool-down stretches
For a full stretching guide with pictures to help you out, see pages 25-28 of the Kids Run Club Manual.