We were not blessed with beautiful fall weather. I think we had Mr. Winter testing his entrance, but that didn't stop a determined group of runners.
This past Saturday was the Rocket Boys Festival with a 5K & 10K race in Raleigh County. The Active SWV Training Team helped prepare area residents to compete.
Charlene joined the team on July 12th with the goal of getting back into running shape after taking many years off. Charlene achieved a personal record (PR) Saturday at the 5K.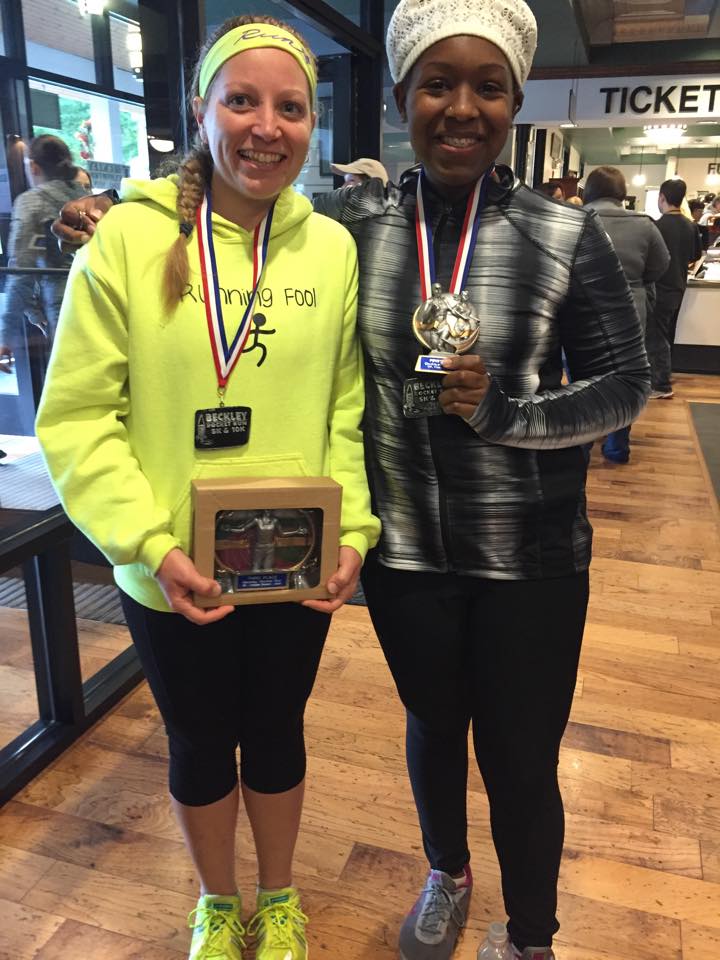 This is what Charlene had to say after the race: "Can I just make a sappy post about Missy? I have run with her for the past few months and I went from struggling with running, to running comfortably by myself. Missy and Active Southern West Virginia got me out of my comfort zone and I have raced 3 competitive races all under 30 minutes. I am blessed to have stumbled across this awesome group of people with a mental mindset of 'I can' and with a nice support system anything is possible ???? Thanks team!"
Coach Missy replied: "Charlene I am so proud of you for sticking with it and accomplishing your goals! It is YOUR 'I can' attitude and the will to make it happen that kept you going. I can't wait to see what you accomplish in the future because I think whatever you set your mind to you WILL make it happen!! CONGRATS!!!!"
Active Southern WV Training Teams provide safe and effective training practices to help prepare area residents for running events. Coach Missy is part of the first year of Training Teams. Through this experience we have learned that beginner runners have the most interest in the program and training toward 5K distances has the biggest impact for our population at this time.
In 2016 ActiveSWV will host three 5K races with Training Teams services before each race. You can expect races in April, August and November.
Coaches and team members will be provided with the Active SWV Training Team Beginner to 5K Training Manual which includes:
5K training schedules that will take you from a beginning runner to an intermediate competitor to an advanced winner.
The support of a Training Team coach who will lead one weekly group run for the team and use that opportunity to answer questions and encourage Training Team participants. The coaching staff will also be available throughout the week to answer questions via email or text.
This booklet will also provide supporting information regarding nutrition, clothing, and other essential tips that will facilitate development into a strong, efficient runner.
ActiveSWV does provide coach training and is currently recruiting for more Training Team coaches around Raleigh, Fayette, Nicholas and Summers Counties.
Please email or call to learn more about participating or coaching in 2016.
MSeiler@activeswv.com (304) 254-8488