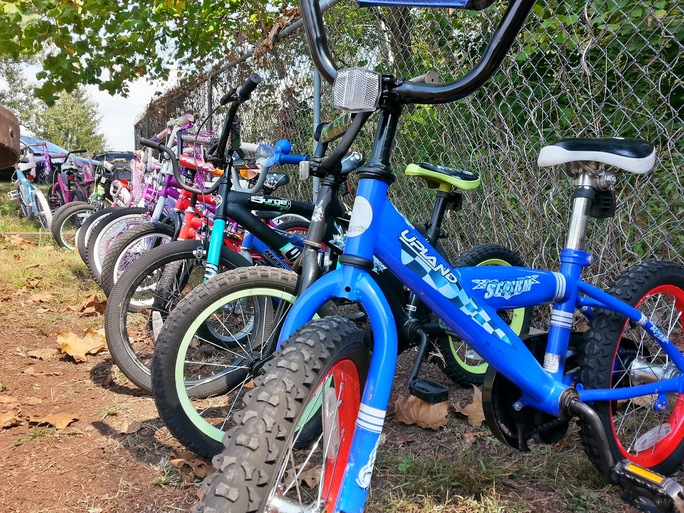 Active Southern West Virginia (ActiveSWV) will be accepting applications for the third year of the Bike/Walk SWV AmeriCorps VISTA position. This position is made possible by the National Coal Heritage Area, AmeriCorps VISTA, and the support of the New River Gorge Regional Development Authority.
About Active SWV
Active SWV was created to foster community-level programming targeted at improving access to physical activity opportunities. The New River Gorge Regional Development Authority received feedback from businesses looking to relocate to southern West Virginia that includes concern for the health and health expense of the workforce. This building block of economic growth has been taken seriously, and since 2015 Active SWV has followed the model of Active RVA, a program created by Sportsbackers in Richmond, VA, to create volunteer-led physical activity programs in southern West Virginia.
The mission of Active SWV is accomplished through its five signature programs;
Community Captains – Volunteers leed weekly or bi-monthly physical activities which are free for participants.
Kids Run Clubs – Volunteer coaches deliver healthy lifestyle education at regional elementary schools through a 4-8 week running program.
Workplace Wellness – Volunteers collaborate with management and staff to plan and implement changes and challenges to the environmental, policy, and individual health aspects of the workplace to reach the desired level of health culture therein.
Special Events – Special race events throughout the year that help raise funds for Active SWV's free physical activity programs.
Active SWV Bike/Walk – Working with the communities of southern West Virginia to improve safe access to physical activity venues through advocacy, policy implementation, project planning, volunteer training, and building collaborations.
About the Position
The Active SWV Bike/Walk AmeriCorps VISTA position is in it's third and final year. Andy Davis has been in the position since 2016 and will provide onsite training to the new staff member. This position relies heavily on building relationships and partnerships. The right candidate will need excellent communication skills and be a self motivated and organized individual.
Goal of the Project: Engage in the development of a connected network of pedestrian and bicycle infrastructure whereby both the residents of and visitors to the towns of southern West Virginia may exercise, walk, run, hike and bike in a safe environment. The VISTA's efforts will leverage the region's historical past to attract visitors interested in adventure and cultural tourism. This will serve as an adaptable model for all communities throughout southern West Virginia.
Objective 1: The VISTA will continue to build the organizational capacity of the City of Mount Hope in order to expand and sustain opportunities for healthy lifestyles while attracting visitors looking for exercise and cultural activities.
Step 1: Build capacity between regional and local public and private stakeholders.
a. Build partnerships with local public and private sector organizations and businesses to advocate for and fund the development of a Mount Hope safe street and trail system.
b. Research historical assets and coordinate the trails project with the Coal Heritage Museum.
c. Engage local residents in supporting the benefits of multimodal transportation and its positive effect on active lifestyles.
Step 2: Develop planning for a system of connected safe streets and trails.
a. Coordinate with Mount Hope Mayor's office and Public Works to expand sidewalk development, establish protected bike lanes and build fitness trail.
b. Work with the CSX Company to build a rail-trail on their existing abandoned track.
c. Work with the Coal Heritage Museum, which will be the terminus of the Mount Hope Trail System, to assist in their inclusion of physical activity and accessibility for walking and biking.
d. Develop an advertising campaign to promote the Mount Hope Trail System locally, regionally and to a national audience.
Objective 2: Create a sustainable project where increased revenue from visitors and fund raising will cover maintenance of the trail system.
Step 1: Write grants and secure funding for the build-out of the trail system.
a. Purpose: The Mount Hope Trail System will improve health and reduce poverty by providing the citizens of Mount Hope the opportunity to exercise on a system of safe streets and connected trails. Visitors seeking active and cultural activities will access bike trails and view historical sites. Businesses looking to relocate to the region will find a community where living an active lifestyle is a priority.
Step 2: Organize a "Friends of Mount Hope" annual fund.
Step 3: Plan for an annual running and/or biking event featuring the Mount Hope Trail System assets.
Step 4: Apply for accreditation as a Bicycle Friendly Community for the City of Mount Hope through the League of American Bicyclists to help attract positive attention for the community.
Objective 3: Measure the effects of the trail system.
Step 1: The VISTA will work under the supervision of Active Southern West Virginia and its Bike Walk SWV initiative. This initiative seeks to connect the four counties that encompass the New River Gorge Region with a connected network of safe routes and trails. VISTA will work closely with the New River Gorge Trail Alliance to incorporate the Mount Hope Trail System into its current trail connectivity plans.
Step 2: The VISTA will use local resources such as the Fayette County Health Department and New River Health to help implement a data collection program to track health statistics in Mount Hope, e.g. obesity, diabetes, and addiction, as well as access to safe venues for individual and group exercise, with particular focus on improved access to safe streets and trails.
Step 3: The VISTA will create a "How-to Manual" for bicycle and pedestrian accessibility improvements that can be used as a guide by communities of southern West Virginia and begin working with the city of Beckley, WV on implementing these improvements.
Step 4: The VISTA will work with the regional CVBs to promote the Mount Hope Trail System to tourist operators, media, and business organizations.
About AmeriCorps VISTA
AmeriCorps VISTA (Volunteers in Service to America) members bring their passion and perseverance where the need is greatest: to organizations that help eradicate poverty. The most pressing challenges we face as a nation require the most courageous and creative people to address them. An AmeriCorps VISTA member serves as a catalyst for change, living and working alongside community members to advance local solutions.
This AmeriCorps VISTA position with Active SWV is for one year beginning in February 2018 and ending in February 2019. The VISTA will receive a living stipend, education grant, and will be reimbursed for mileage during work hours.
This position is commonly filled by recent undergraduates looking for life experience before pursuing a masters degree. Diverse background can benefit from this experience ranging from public health, parks and recreation, to sports management.