Active SWV is excited to introduce our July Community Captain of the month, Abbie Clasgens! Abbie is a new Community Captain who was one of many to participate in the recent 2019 Community Captain Training. Abbie leads the Active SWV Kaymoor Stairs group, and is also a certified American Canoe Association (ACA) Level One SUP skills instructor so she can offer free stand up paddle boarding programs to the community.
Abbie was born in Cincinnati, Ohio, but moved to Fayetteville WV right after graduating High School. She spent a few years alternating
"I stay motivated by setting a lot of goals for myself. On the stairs I always try to beat me previous time, while mountain biking I always try to not walk a part that I walked before. I'm pretty good at self-motivation. Being active is a priority because I want to feel as good about myself as I can, and accomplishing a goal definitely feels really good" – Abbie Clasgens
between Fayetteville and Snowshoe, and soon plans to go to Morgantown for school. Abbie has been playing sports since childhood, so she's always loved being active. For Abbie, staying active is a great way to feel good, hang out with friends, and meet new people out on the trails. Between all the rafting, running, biking and more that she does regularly, It seemed natural for her to start volunteering and sharing her love of being active with others – "I love being a guide and being able to show people my favorite places", Abbie says. "I think this program is amazing and really good for our community, so I definitely wanted to be a part of it." She adds "I was getting tired of doing the stairs by myself every week, so I figured this would be a great way to encourage people to get out there with me!"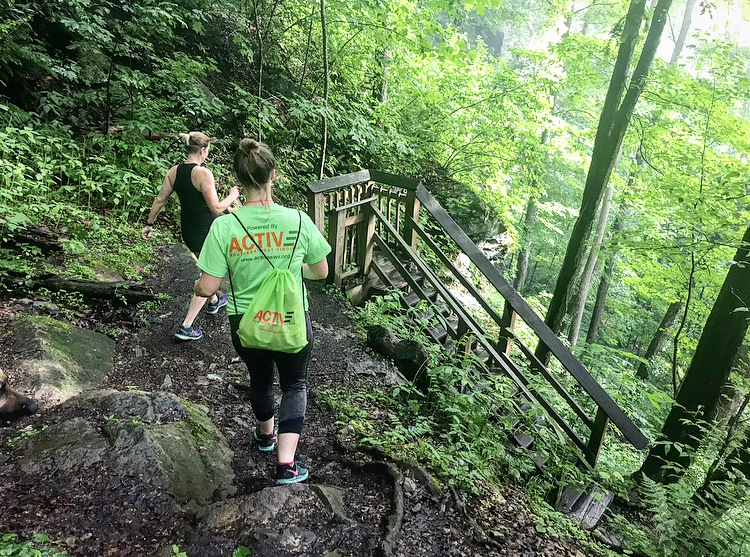 If you're looking for a fun and free way to get active, you can join Abbie every Thursday at 8:00am (7:30 starting in July) to do the Kaymoor stairs! Active SWV also has plenty of other ways to get active including hikes, walks, fitness classes, rock climbing, SUP, and more.