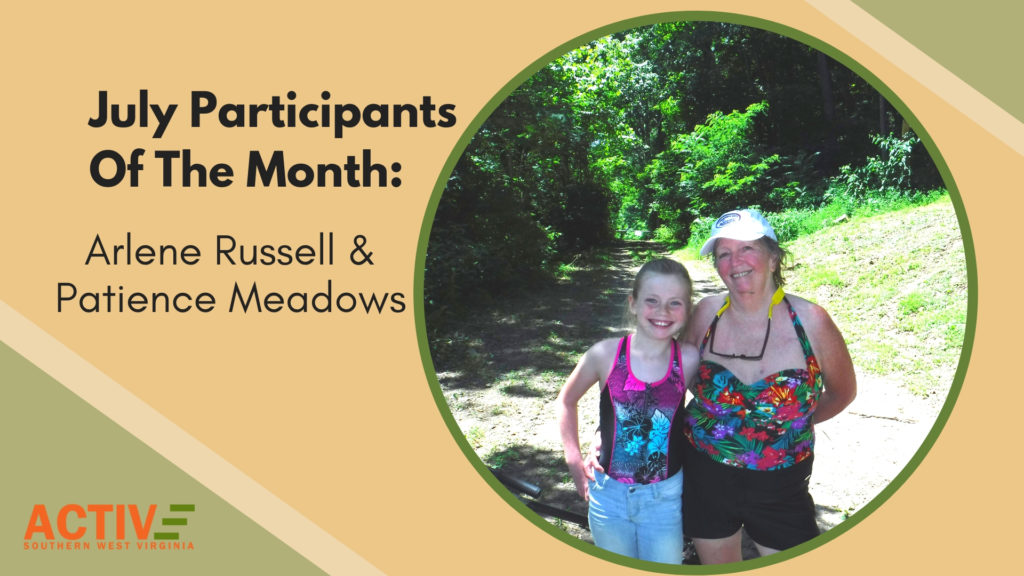 For the month of July, Active SWV is excited to highlight Arlene Russell and her granddaughter Patience Meadows as our participants of the month!
They attended the recent Get Active at Hawks Nest Lake event, a partnership between Active SWV and the National Parks Service. Thanks to the help of NPS Rangers Joseph Whelan and Amanda Appleton, and some of our volunteer Community Captains Scott Justice, Aletha Stolar, Nicole Linkfield, Heather Cooper, Amy Showalter, Charlie Mooney, and Megan Fisher, there were opportunities to bike, hike, SUP, and try some Qi Gong by the lake. The multiple activities allow families of all ages, interests, and capabilities to come and participate in whatever event(s) they feel comfortable doing.
Patience had been looking forward to the Hawks Nest Lake event since she and her grandmother Arlene saw it on Facebook, and she was super excited to come ride bikes and do some SUP. Patience likes to stay active because it's fun, and to spend time with her grandmother. The two took advantage of the multi-activity day at Hawks Nest Lake to alternate between land and water activities, and both agreed that the stand up paddle boarding was the most fun. Patience had done it once before at camp, and was happy to try it again.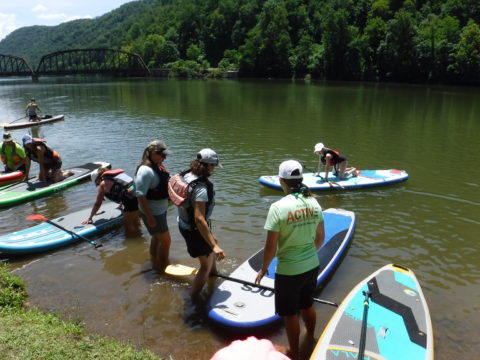 Arlene and Patience have been to other Active SWV events like the recent moonlight walk, and the walk with the Mayor in Beckley. Arlene also does Qi Gong with Active SWV, and she'd been to one other paddle boarding demo day. Arlene likes to be active to stay healthy, and normally goes to the gym for exercise classes 4 times a week. Recently she's been using that time to get out and do Active SWV events with her granddaughter Patience. "I think Active is one of the best things ever" Arlene says. She doesn't feel comfortable going out in parks or on walks alone anymore, and she likes that Active SWV programs let her be active with a bigger group. She also says that between school, working parents, and things to complete at home, it can be tough for Patience to be active sometimes as well. Arlene is grateful for days like the one at Hawks Nest Lake where they can both get outside and do some fun activities with a group of people.
Thanks for coming out, Arlene and Patience! Hope to see you at more Active SWV events soon.
You can find a listing of more fun and FREE ways to get active every day on our website calendar.
Interested in volunteering? Email erin@activeswv.com to get started!