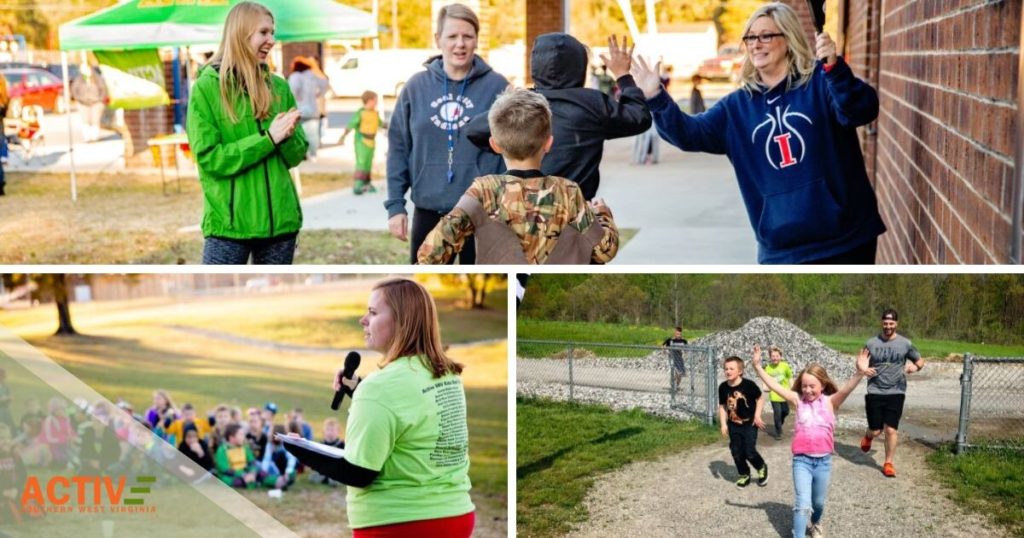 Fall Kids Run Clubs are almost here, and they are seeking more volunteer Coaches to help out! This is a great opportunity for people of all ages and fitness abilities to come out and volunteer with the community. Don't be scared away by the title, no physical activity or coaching experience is necessary to be a Kids Run Club coach! Join hundreds of other parents, teachers, administrators, grandparents, WVU Tech Students, High School Athletes, community members and more, and become a part of the Kids Run Club family today.
to be a Kids Run Club Coach!
Kids Run Club Program
Active SWV Kids Run Clubs are designed as a free, 6-8 week program to help kids of all skill levels develop an enjoyment and understanding of exercise while learning healthy habits for life. All of Active SWV's Kids Run Clubs are unique and are tailored to each school depending on the amount of space available, resources at hand, and goals of the coaches and participants. Kids Run Clubs are non-competitive and have an inclusive and supportive environment. Kids Run Club Coaches are essential to creating and maintaining this positive environment for growth and fun!  It is our goal to get children excited and engaged with physical activity, and YOU can help us accomplish this! Read more about the program here.
What It Takes
Not a runner? Not to worry!
'I really genuinely enjoy getting to coach Run Club; I love seeing the kids active and having fun! It brings me a lot of joy hearing kids tell me how excited they are for run club to start because I know they want to exercise and are choosing to be there, learning healthy habits that will influence them the rest of their lives. – Alexis Virtue, Valley Elementary Kids Run Club Coach
Coaches of all abilities have the same opportunity to serve as positive examples of healthy habits and to help get youth excited about physical activity. There is absolutely no need to consider yourself a runner! Active SWV provides in depth training for all Kids Run Club Coaches, as well as a manual full of program plans, stretches, games, and more guaranteed to guide you through the whole experience. And you won't be in this alone! You be working alongside other amazing Kids Run Club Coaches and volunteers. Active SWV assists with every step of the program and gives all coaches the tools to feel confident to lead the program. All you need to bring is a positive attitude and a desire to help kids in our community get physically active! 
Finding the Right Kids Run Club for You
The Active SWV Kids Run Club Program takes place in elementary and middle schools across Fayette, Nicholas, Raleigh, and Summers Counties. Different Kids Run Clubs practice throughout the week at a variety of different times, both before and after school. Interested volunteer coaches will be paired up with a Kids Run Club convenient for them, depending on what fits into their busy schedule!
The Commitment 

Before the season begins, new Coaches will attend a roughly 40 minute Kids Run Club Coaches training where they will be equipped with all the tools and information they need to be a successful Coach. We would like all volunteers to commit to being a Kids Run Club Coach for the entire 6-8 week season in order to build relationships and provide consistency for the kids! Most Kids Run Clubs practice once a week, before or after school for 30-60 minutes.
The Reward
Active SWV Kids Run Club Coaches have an incredible opportunity to make a direct impact on the lives
and health of children in our community. Building confidence, fostering a love for physical activity, instilling healthy habits, encouraging friendships, developing teamwork skills, and inspiring our youth to be their best selves – these are all a small piece of the amazing things that Kids Run Club Coaches do for their participants.

Contact Us
If you have questions about the program, Coaching, or anything else Kids Run Club related, email india@activeswv.com for more information.
Connect with Active SWV on Facebook, and check out our website calendar for a listing of free physical activities open to people of all ages and abilities.