#NRGSUPRACE; West Virginia's only whitewater paddle board race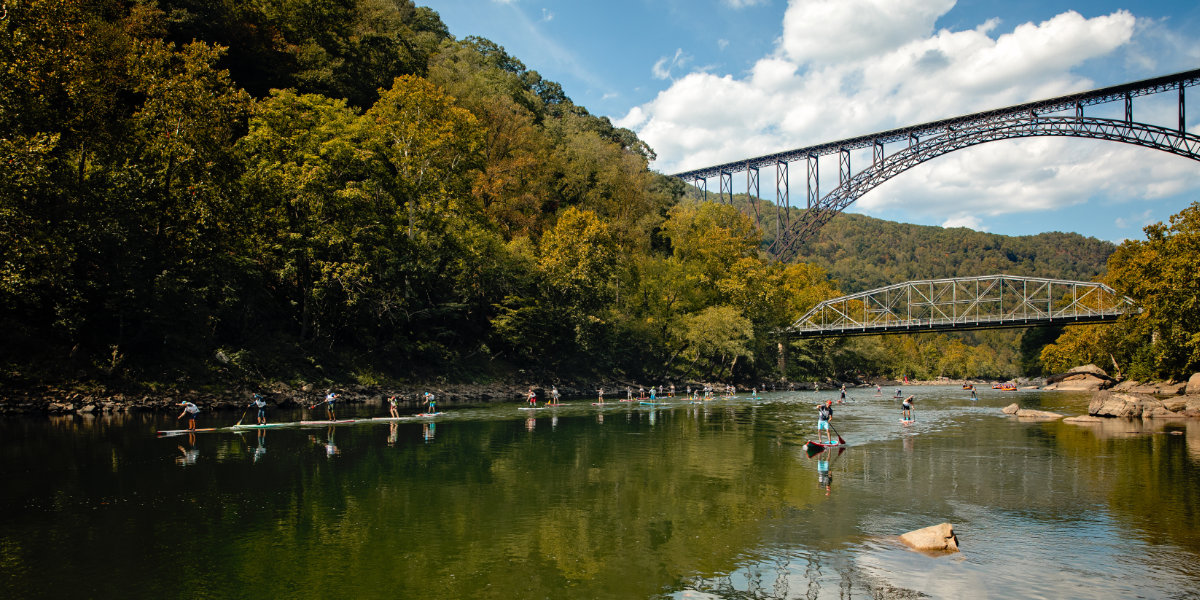 The New River Gorge Stand Up Paddle Board Race took place on September 22, 2019 at Fayette Station on the New River in West Virginia. The event consisted of three races offering a variety of courses for competitors with a range of skills. Thank you to our event hosts; Active Southern West Virginia, Adventures on the Gorge, and Mountain Surf Paddle Sports for partnering on logistics, event staff, and equipment.
The first race event was the Active SWV Youth SUP Race. Giving people the access to live active lifestyles is the mission of Active Southern West Virginia and paddle boarding is an excellent way to explore the rivers and lakes of our region. The second annual NRG Youth SUP Race took place this year with support from Mountain Surf Paddle Sports LLC, Water Stone Outdoors, and First Waves bringing together the gear, race day support, race jerseys, and prizes! Watch a recap of the race in this video by Mountain Surf Paddle Sports.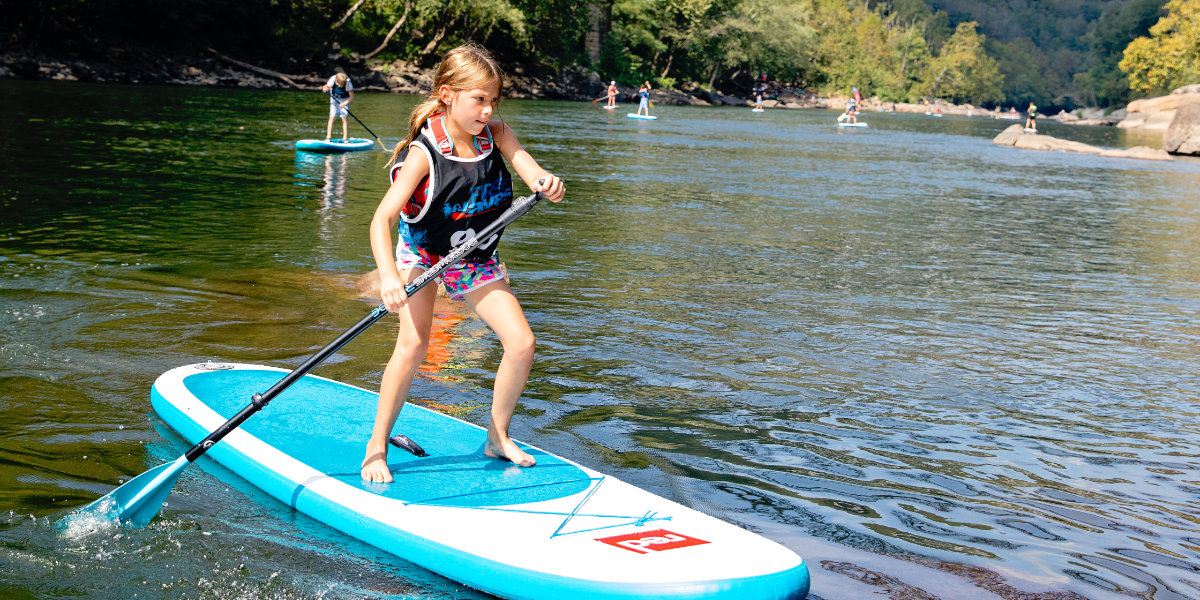 The two adult races, Attainment and Downriver, require paddlers to bring flatwater skills and whitewater skills together and on the same board for both races. There is a board length limit of 12'6″ to keep things competitive.
"This race truly embraces the SUP community. Men and women and all experience levels. Something to really be proud to be apart of," shares Haley Satterfield.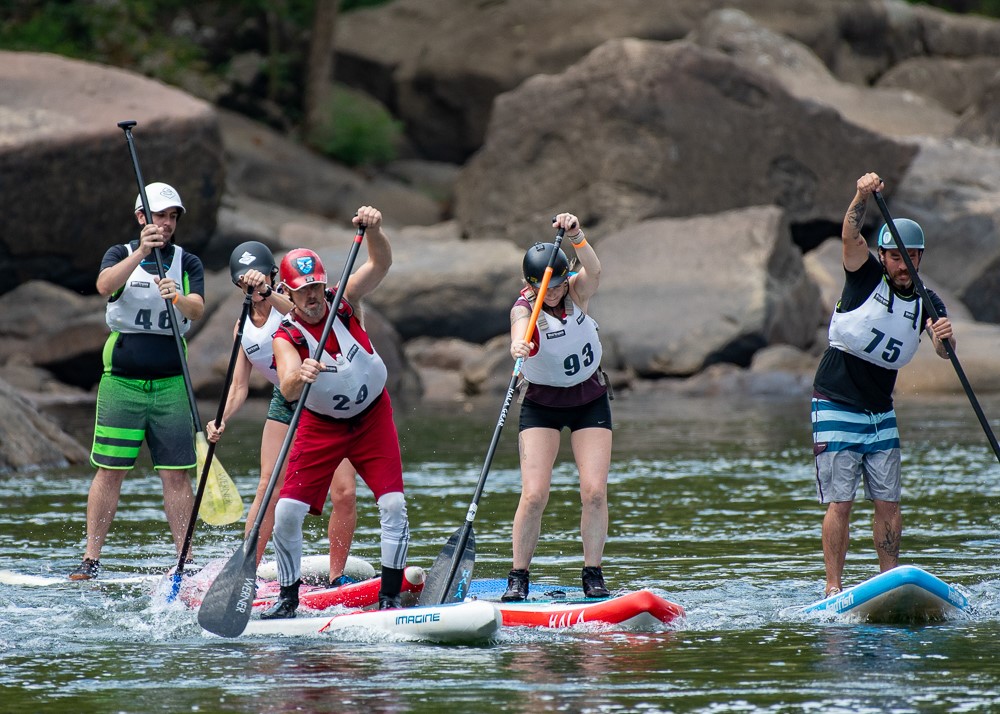 The final race of the day is the Downriver Race with some whitewater rapids to navigate and flat-water pools to charge through. This was an on water start with a buoy turn into the wave train of Fayette Station rapid. The 2019 Downriver Race was sponsored by Hala Gear which provided boards for demo before the races, a donated board for raffle, and extra equipment support. It's a unique event and great for the intermediate paddler who has whitewater paddle board experience.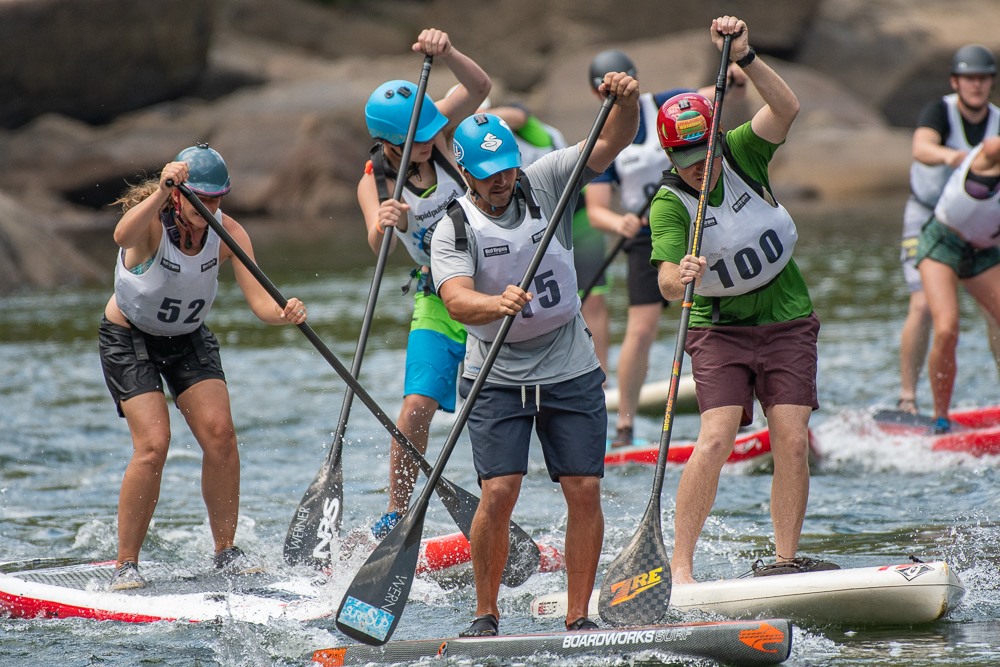 The #NRGSUPRACE Downriver Race course is determined based on water levels. Below 2500 cfs has the race starting below Fayette Station rapid with an attainment to a buoy into the tailwater wave train and then downstream through two rapids; Flea Flicker and Old Nasty. Thank you to Hala Gear for being the Downriver Race sponsor. Check out the bottle neck around the buoy turn and how a skilled stance can get a long board around quickly in this video by Appalachian Whitewater Sup Series.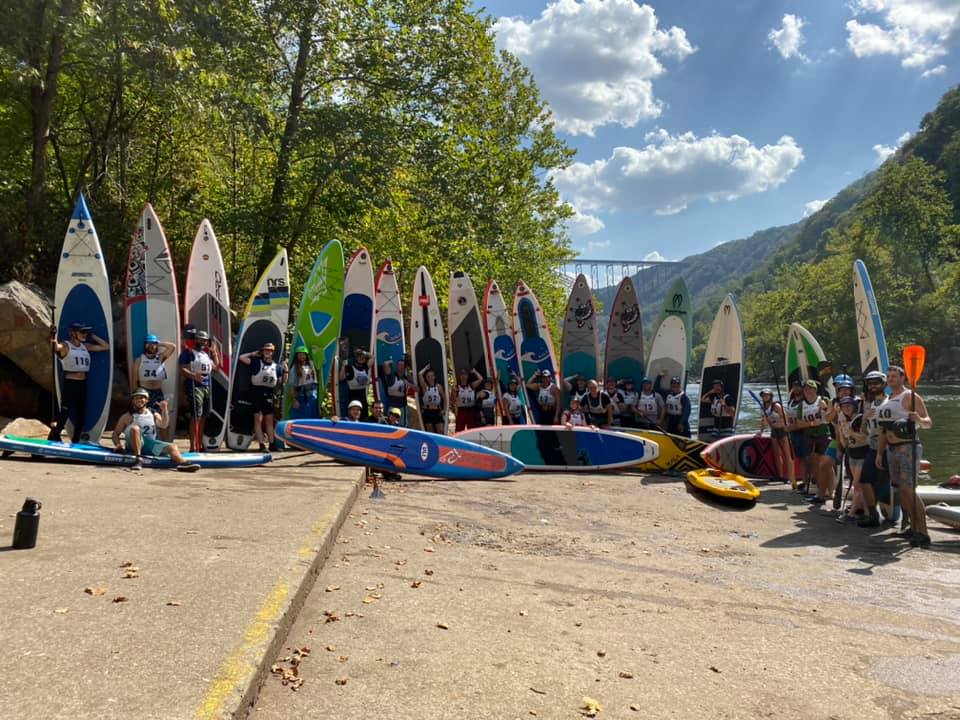 The weather was amazing, the racers offered a friendly competitive vibe, and the spectators cheered from the riverbanks. It was inspiring on many levels to continue to reach more people with this rewarding sport. Thank you to all the sponsors who made this event possible:
Active Southern West Virginia
Adventures On The Gorge
Cathedral Cafe
Secret Sandwich Society
Flat Top Fridays
Southside Junction Tap House
New River Yoga
Maggie's Pub
Chris Faris Investments
Chestnut Creek Campground
WV SUP
The Freefolk Brewery
Riverbend Brazilian Jui-Jitsu Academy
Mountain Surf Paddle Sports LLC
WaterStone Outdoors
Northwest River Supply
Hala Gear
ACE Adventure Resort
ACE Adventure Gear
Bridge Bound Campers
Bridge Brew Works
Pro River Outfitters LLC
Fayette Veterinary Hospital
Captain Thurmond's Challenge
The Burrito Bar at Breeze Hill
Outside In Climbing Gym
Molly Wolff Photography
Captain Thurmond's Challenge
Pies & Pints
"The New River Gorge Sup Race just might be the friendliest, funnest (that's now considered a word, right?) and most unique sup event in North America and maybe even the world. The venue under the New River Gorge Bridge is stunning, the attainment race is just tricky enough, the downriver race an exhausting mix of whitewater carnage and flatwater hammering, and the purely West Virginian bus shuttle back and after-party with great friends old and new is the stuff of legend. Plus, the surrounding Fayetteville community is the coolest and most charming little slice of heaven that I've ever had the pleasure of stumbling across." – Jonah Logan.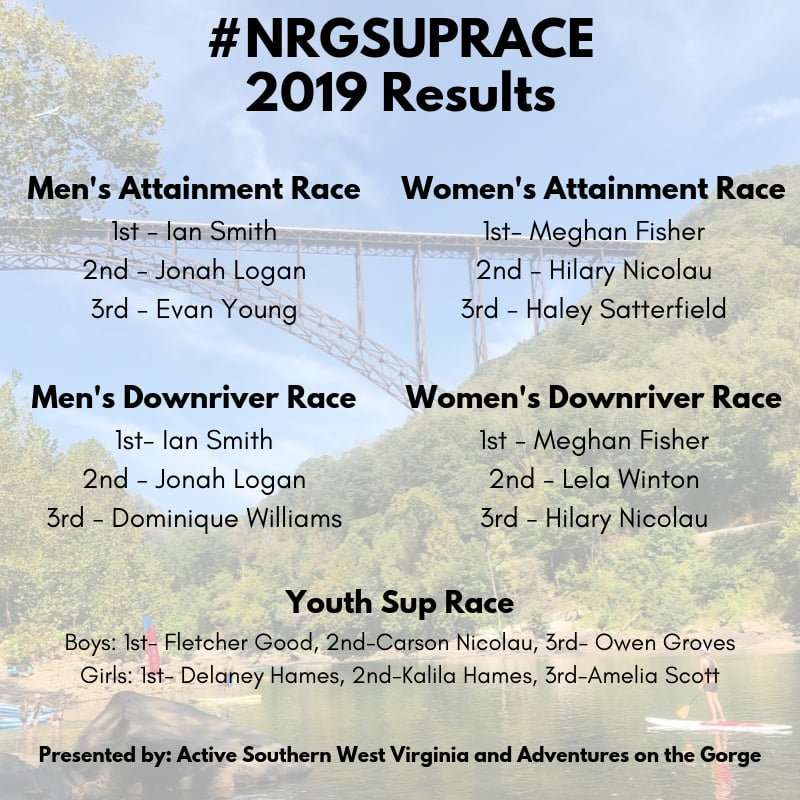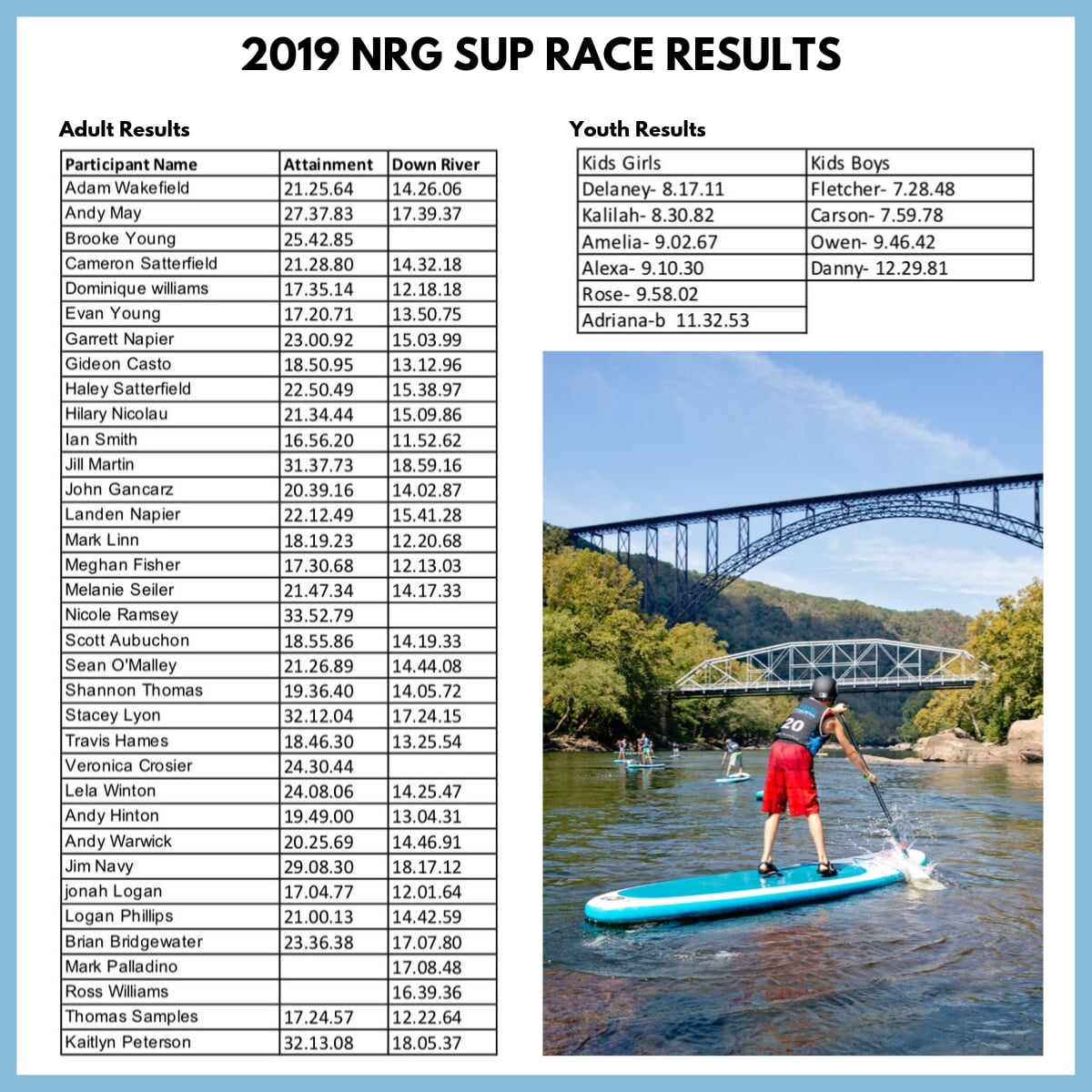 Special thanks to the staff and volunteers in these roles:
Jo-Beth and Jenny Varuska for helping with parking and timing.
Glenda Crawford, Erin Reid, India Krawczk, and Deb BellaVita for a smooth registration.
Candace Evans, Molly Wolff, Carl Galie, Deb BellaVita, and Vince Nicolau for great photos.
Veronica Crosier, Mara Petretich, Meghan Fisher, and Brent Samples for safety during the youth races.
Kyle Tunison from NPS for assistance with parking and safety.
Brian Good for always being the race director and setting buoys.
Len Hanger for being our bus driver after the downriver race.
And many more attendees who helped others to place gear, park, answer questions, and cheer from the river banks!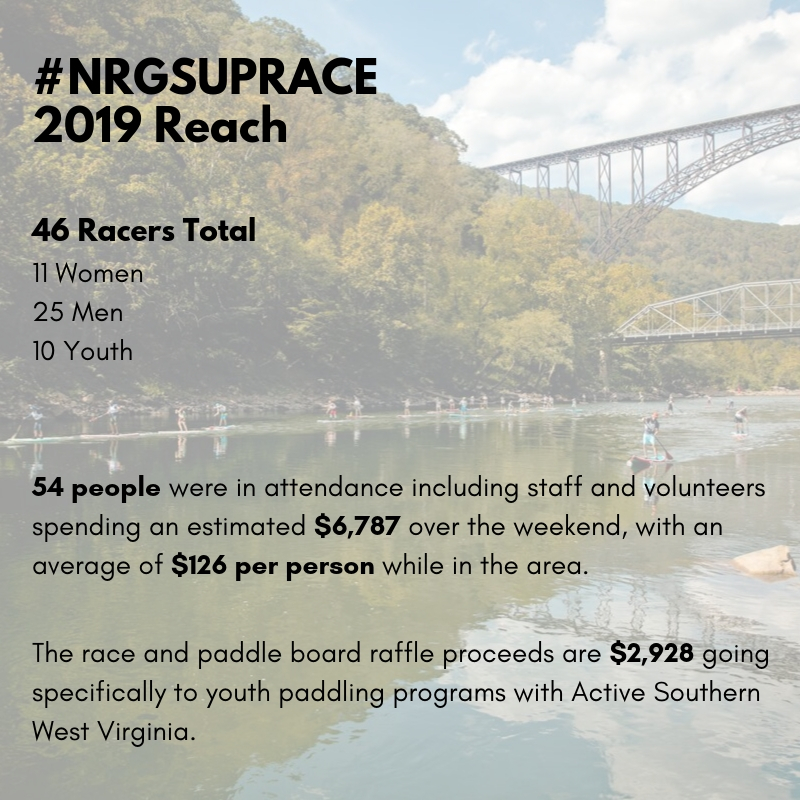 "The NRG SUP race is an all inclusive event—adults and children alike—are able to enjoy racing in a supportive and fun environment. I look forward to being part of the event again next year," shares Brent Samples.