Why are some people saying that November is the new January? Here are four solid reasons: Thanksgiving, Christmas, New Year's and the early evenings that beckon us to sit on the couch by 6pm and be less active. Yes, I love to sit on the couch with a fleece blanket a hot beverage and fire in the fireplace, but if I did this every night, laundry would pile up and extra stressors would enter my life. The holiday season is typically when we don't make the best decisions regarding our health due to extra time constraints and stress. We tend to eat more, drink more and move less. So, let's be proactive instead and save those special fireside evenings for every now and then. With today being the first day in November, the beginning of a new month and the holiday season upon us, what better time is there to start some health goals and get a jump start on 2020. This year lets invest in our health, whether it be physically, mentally or socially. With a few simple steps, this holiday season can be your healthiest yet. Here are three ways to boost your health and add to your Fall plate.
Fall in Love with Produce 
The fall season is full of nutrient rich fruits and vegetables, such as, kale, sweet potatoes, apples, beets, pears, cranberries, pumpkins and squash. Sweet potatoes are one of my favorites and are full of fiber and vitamin A. They can be baked in wedges, mashed or pureed. They can even be frozen in ice cube trays and tossed into smoothies to increase your veggie intake. Check out this smoothie recipe.

Beets have phytonutrients called betalains that can help reduce oxidative stress in our body. Beets can be roasted and added to smoothies or orange juice. You can also finely shred them and add to bake goods just like you do with zucchini. Grocery stores also have ready to eat, pickled beets that you can slice and add to your green salad and top with some feta. Try this recipe!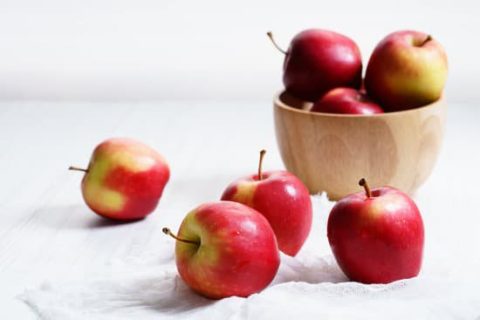 Apples are a great grab-n-go, portable snack to take with you. It's full of nutrient rich goodies too! The skin is rich in fiber and quercetin, which has shown to be cardioprotective because of its anti-inflammatory properties. Additionally, apple skins are high in pectin, a soluble fiber that has shown to reduce cholesterol and reduce heart disease risk. Apples are a great snack combined with a healthy protein, such as cheese or nuts to increase satiety. 
It's the season for apples, beets, sweet potatoes and more! When fruit and vegetables are consumed in season and close to harvest, they have an increased nutrient profile. So add one to your snacks, breakfast, lunch, or dinner.
The Power of Pulses
Pulses are considered a nutrient powerhouse and, include lentils, dried peas and beans. Pulses have stood the test of time and date back to 11,000 years ago. They are now remerging, playing a vital role in plant-based diets as a key, protein-rich food option for vegans and vegetarians. They have been linked with lower risk of chronic diseases such as, heart disease, hypertension, diabetes and some cancers. In several studies regular consumption has shown to lower elevated cholesterol, increase satiety, lower spikes in insulin and improved blood glucose management, prevent constipation and enhance beneficial gut bacteria.
They are one of the most nutrient-rich plant foods out there. They are jam packed with phytonutrients to help fight inflammation, are low in fat, high in protein and full of fiber. But what about all this anti-nutrient talk? They can be referred to as an anti-nutrient because they block the absorption of some nutrients (iron, zinc, calcium, magnesium and manganese), but this can be easily mitigated by soaking and cooking pulses; sprouting and fermentation are also helpful. So, don't let the hype deter you from enjoying some pulses this Fall.  

They are also a healthy option for the planet and can help decrease your carbon footprint because they are naturally drought tolerant. Typical water requirements are 43gallons/lb., compared with 1,857 gallons estimated water needs to produce 1lb. of beef, 469 galloons/lb. for chicken and 216 galloons/lb. for soybeans.
Additionally, pulses can help extend your meat filled dishes. For example, a blend of beans with ground beef can extend dishes such as spaghetti sauce, soups, chili, meatloaf, burgers and tacos. Pulses are making their way into restaurants, hospitals, schools and now home kitchens. Grocers are carrying more pulse friendly products such as, hummus, bean burgers, chickpea pasta and more. Its never been so easy to include this nutrient rich food to your table.
| 1/2 Cup Cooked Pulses | % Daily Value |
| --- | --- |
| Fiber | 20 (4x more fiber than brown rice) |
| Folate | 20 (Chickpeas contain 3x more folate per serving than kale) |
| Manganese | 20 |
| Protein | 10 |
| Iron | 10 (1.5x as much iron as one 3oz. serving of flank steak) |
| Selenium | 6-8 |
| Zinc | 6-8 |
Fuel for Fall Fitness
Typically, its recommended to eat 30-60 minutes before you run. This might look like cereal, toast or banana. For others it may be that eating a meal 2 hours prior to running is a better idea. The composition of your meal is also important too. Carbohydrates are important for endurance athletes because they are stored as fuel (glycogen). Eat a variety of carbohydrates from beans to sweet potatoes, apples, carrots and pasta.
Remember carbohydrates are not just bread and pasta, vegetables have carbs too! Include a lean protein source and healthy fat. A meal could be Salmon, sweet potato, broccoli (or green vegetable of choice) and a slice of bread.  Don't overlook your recovery period. Your body needs to replenish glycogen stores you've depleted and rebuild muscles that have been broken down. Reach for snack with protein and carbohydrates to replenish those worked and tired muscles.
Start those goals now, research says it takes ~60 days to form a habit, so this is the perfect opportunity before the New Year is here. Maybe you're thinking about how you can be healthier, more physically active, participate in a 5k, 10k run or walk. If so, check out all the programs we have to offer and fun Signature Events we have coming up! Be one of the first participants to run the beautiful Rim to Rim race in April 2020. Set your goals early and move forward in health and activity this Fall!