We have some exciting wellness initiatives in the works with the Active Southern West Virginia Workplace Wellness Programs for 2020! Here's a brief synopsis of some of the ideas that are going to become reality for workplaces and their employees.
Onsite Fitness Facility
Unused space is going to be transformed into a fitness facility for employees to use at their own convenience. Not only do they encourage walking meetings, but now they will have an onsite fitness facility to work off a stressful day or start a happy hour workout session. Increasing physical activity in the workplace has shown to enhance productivity and create a great place to work.
Community Garden
Another workplace is planning and creating a community garden for employees and their families to enjoy. This will be a wonderful project that will be felt in the community. The garden will improve teamwork, increase physical activity and has the potential to increase fruit and vegetable intake optimizing overall health and wellness.
Bike Desk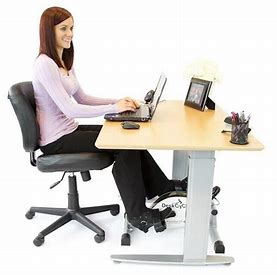 A couple programs are implementing bike desks to increase physical activity in a job that requires a lot of sitting. Research at Clemson University reported an improvement in mood, motivation and task engagement for bike desk users.
Trail
Planning and designing a trail onsite as well as a map with mileage is another avenue to encourage physical activity at work.  This will include distances and will be available online and in the halls of the workplace to promote participation. Having a space to walk and talk for walking meetings is a great avenue to improve employee health and create a culture of health.
These initiatives are possible through the mini-grants awarded to workplaces within our region and the support of Active SWV, as well as the dedicated wellness committees at each place of business. If you would like support, tools and resources on how your place of business could promote workplace wellness and implement one of these initiatives please contact Active SWV at (304) 254-8488 or Info@activeswv.com.