Active Southern West Virginia (ActiveSWV) is pleased to announce India Krawczyk has accepted a full-time position with the non-profit, transitioning from her previous role serving the organization as an AmeriCorp VISTA. India will continue to grow youth programming in Nicholas, Fayette, Raleigh, Summers, Boone, and Kanawha Counties.
Youth development is a priority of ActiveSWV and great strides have been made in the last two years under the leadership of India Krawczyk. "India is the best individual I have worked with from an outside company through the school system. Being a part of run club is always a great experience throughout the school year, but India has always made it so easy and successful for the students. I am eager each year to work with her and she always makes me feel appreciated and like I am doing a great job. I could not think of another person who deserves this promotion more than India." – Staci Stover, Fairdale Elementary.
India joined Active SWV as an AmeriCorps VISTA serving the New River Gorge region as the Kids Run Club Director. AmeriCorps is a network of national service programs, made up of three primary programs that each take a different approach to improving lives and fostering civic engagement. India has excelled in organizing volunteer trainings, articulating the value of physical activity, extending compassion to address challenges, and prioritizing projects to assist across the organization.
The Active SWV Kids Run Club program seeks to improve the health outcomes of southern West Virginia youth by empowering them with the opportunities, skills, knowledge, and confidence to be physically active. The central goal of the program is to instill healthy habits in our area's youth and to get them excited about running and physical activity. Active SWV hopes that all participants find joy and confidence with running and physical activity, so that they can continue to be active beyond their time in the Club.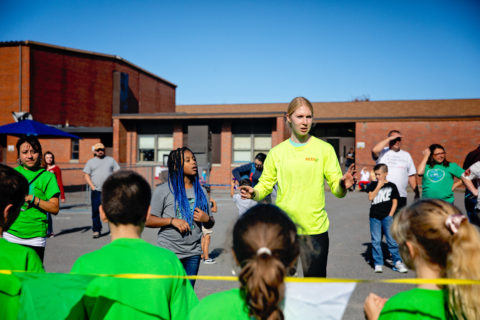 "Really the whole reason I started it [Kids Run Club] was because of the all-inclusive structure. I wanted all the kids to have something that they could do, no try outs, no MVPs, no all starts. They all were great and only competed against themselves, and that I loved." – Tabatha Malott, Ghent Elementary.
Active SWV recently expanded into Boone and Kanawha counties in addition to Fayette, Raleigh, Summers, and Nicholas counties. India will play a vital role in expanding the reach into these new areas. "India is an excellent leader/facilitator for our run club. She makes sure we have all the equipment, paperwork, and training ideas to ensure students have an effective and fun run club. She also demonstrates leadership by joining in and participating during her on-site visits, serving as a role model for students as they run or play. India is also flexible. When schedule changes occur because of snow days or other events, India also finds ways to help reschedule promptly and cordially. Race days are another area in which India shines as a leader. She also provides additional guidance through email and on the Active Southern WV Facebook page, such as grant opportunities, training ideas and videos. Regardless of the task, India is always pleasant, punctual, organized and knowledgeable. We love having India as our Kids Run Club leader!" – Kim Cantley, NBCT and assistant run club coach at Marsh Fork Elementary.
Online programs will be available this fall for any family in West Virginia to provide safe and healthy ways to build confidence in physical activity with your children. Please visit our website and social media for more details. If you have an idea for safe youth programming and physical activity education, please reach out to India today at India@activeswv.com.
More praise for India's service: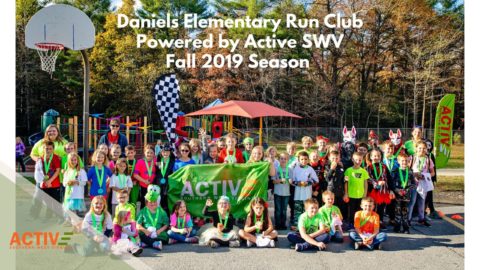 "India helped me by coming to run club practices and providing hands on support. She was instrumental in helping me get a Kids Run Club at Daniels set up, answering questions, and helping wrap the season up. She was able to provide me with all of the resources I needed… and she did it all with a smile on her face!" – Alyce Almond, Daniels Elementary.
"India was always helpful and supportive to us at Stanaford. Anything that we needed for run club she got us. She also gave us ideas on how to make it better for the kids and to involve parents. She always seemed to enjoy working with the kids and being at our events. We missed her this spring! We hope to start back up in the fall!" – Erin Kneeland, Stanaford Elementary.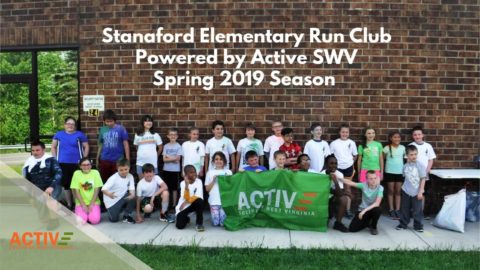 "I loved working with India during Crescent Elementary run club last Spring! She was so helpful with set up and execute our first ever run club!!! Very positive experience." – Sherae Murphy, Crescent Elementary.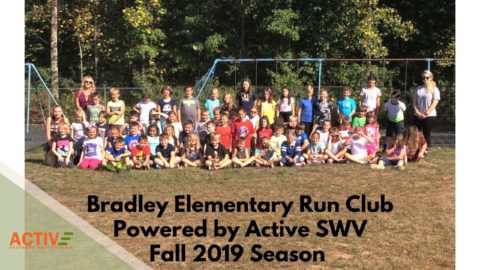 "She was very enthusiastic, supportive in providing equipment, and materials, and was willing to do whatever to make program successful, help in paper work, lugging all that heavy equipment around on fun run days, setting up early and being prepared for a tight schedule. A pleasure to work with." – Walter Farr, Bradley Elementary.
"Since our kids run club is at a school with Pre-K through 8th grade students, we faced the unique challenge of having a huge range of different ages, abilities, attention spans, and endurance levels. We had over 50 kids sign up, which we were thrilled about, but we were also nervous, because we had 4 coaches for 50 students of varying ages.
India was super helpful in stepping in to help us form a plan for splitting the age groups up and helping us develop different activities for each group. She basically acted as one of the coaches for our group most weeks, by pitching right in & helping the kids with their activities. Anytime I had questions about the program or how to handle a specific matter, she was always prompt in replying and gave me solid advice. India has also promptly kept in touch prior to other run club seasons, seeing what our thoughts are regarding the upcoming season, as well as if there is anything, she can help us with. We are lucky to have her to help lead our Active SWV Run Clubs!" – Hilary Nicolau, Fayetteville Elementary.
"India's the ultimate cheerleader for Kids Run Club. She is extremely supportive and patient, never rushing or pushing too hard with start-up timelines but constantly there as a resource and a motivator. She has offered to accompany me to meetings with Crescent's principal to help gain approval and trained our volunteer coaches which inspired confidence in their ability to make a difference in kids' lives with this awesome program.
India also attended several Kids Run Club meetings throughout the season to talk to and to run with the kids. India has always answered my questions, helped make copies, offered ideas, and made sure I had what we needed to make our Kids Run Club as successful as possible. She has never made me feel like I am a bother to her but instead gave the impression she was excited to assist me. We couldn't have gotten the Kids Run Club at Crescent Elementary off the ground without her! She's fantastic!" – Amanda Baker, Crescent Elementary. 
What people are saying about Active SWV Kids Run Clubs:
"Several teachers in our school have come up to me and expressed their gratitude to me for leading this club, saying that their "troubled" kids have done a complete 180 and have a positive outlet to plug into now! This is all of the gratification I need to continue this journey with our school." – Cassie Smith, Hinton Area Elementary.
"During runs at practices, we had so much time to talk. In addition to the natural stress relief gained from exercise, it's been therapeutic for these kids to get an extra chance to just talk and share about their day. Thank you for bringing this program to our school community. It has been a profound life changing experience for me." – Charlie Rose, Birch River Elementary.