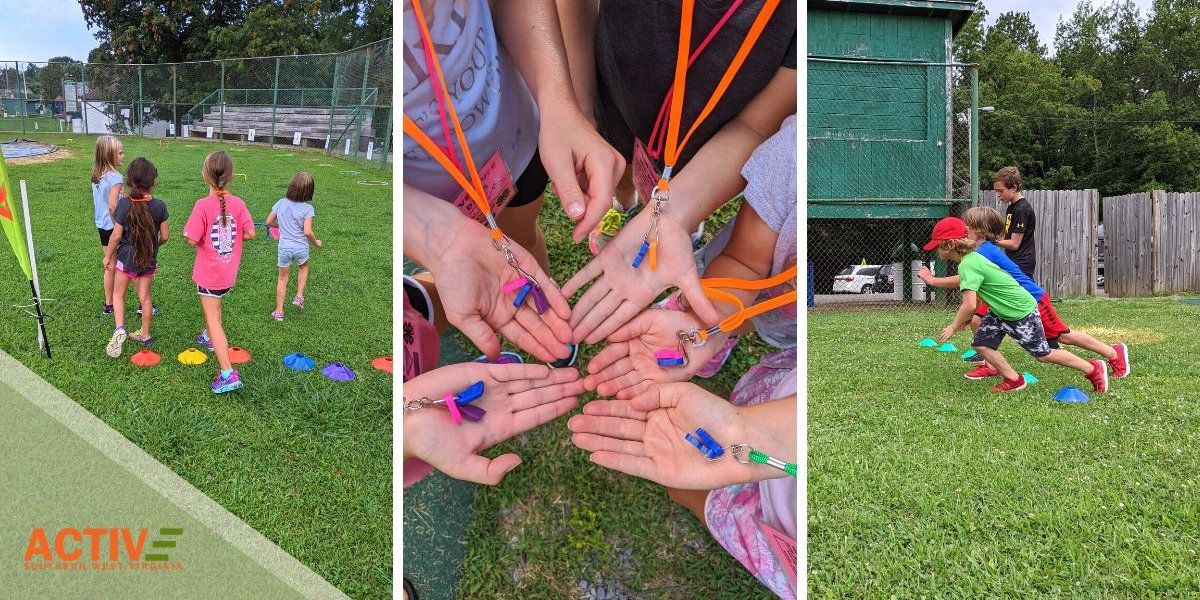 Kids Run Club Summer Sampler
Kids Run Clubs make exercise fun and allow kids to learn healthy skills while building their confidence in physical activity. The Kids Run Club Summer Sampler is a simplified version of the Kids Run Club program that retains each core element of a normal Kids Run Club practice – warm-up exercises, a running workout, a game or agility course, and cool-down stretches. Recreate one or all parts of the Kids Run Club Sampler so kids can be active and get a taste of what the Kids Run Club program is like.
This blog is designed to help organizations that manage groups of kids (day-cares, etc) recreate the Kids Run Club Summer Sampler on their own with very little equipment. Check out the steps below to get started!
See the following instructions to get everything together for the warm-ups, running workout, agility course, and cool-down stretches. Structure the activities so that you do them regularly for a set amount of time – once/twice a week for 6 weeks, for example.
Track attendance – keep a log of which children participate each day/week. Keeping track like this will help with awarding kids small incentives too. For an attendance tracking sheet you can edit to fit your needs, click here
 Provide small incentives for doing the activities – for example: every 5 obstacle course laps earns you a sticker or other small prize
Celebrate the end of the 'season' – on the last day you do the activity, make it a Fun Run! Kids Run Clubs have a 'Fun Run' on the last day of practice to celebrate their accomplishments over the 6 weeks of activity.
If you have questions or would like help getting started, email Youth Program Director India Tarleton Krawczyk at india@activeswv.com
Why Do Kids Need to Be Active?
First of all, why should kids be physically active? Moving regularly can actually have enormous benefits for your body and mind. Exercise aids brain health, weight management, disease reduction, bone and muscle strengthening, and can even help you live longer! Kids and adults alike both benefit from being active every day.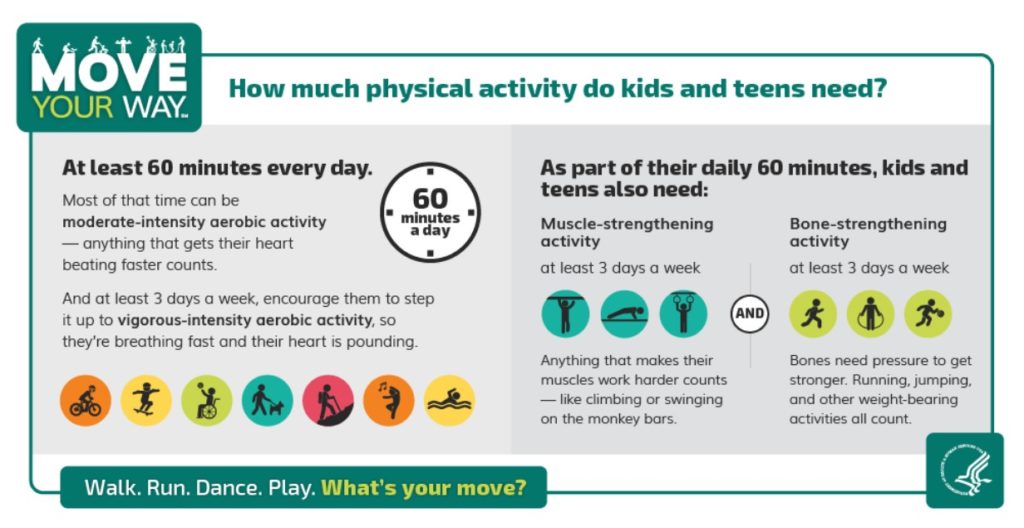 The Physical Activity Guidelines for Americans recommend that children get 60 minutes of physical activity a day, seven days a week. This can primarily take the form of moderate-intensity aerobic activity – anything that gets their heart beating faster counts. At least three days a week, encourage kids to step it up to vigorous-intensity activity where they're breathing fast and their heart is pounding. As part of their daily 60 minutes, kids also need muscle-strengthening activity at least three days a week, and bone strengthening activity at least three days a week.
Muscle-strengthening activities include anything that gets their muscles to work harder, like climbing or swinging on the monkey bars.
Bones need pressure to get stronger, so bone-strengthening activities include activities like running, jumping, and other weight-bearing activities.

Have kids do some dynamic warm-up exercises before they start running or doing the agility course. All these exercises count as muscle-strengthening activities, and many are bone-strengthening as well.
Click here for printable PDFs of warm-up exercises. Exercises include squats, star jumps, running high knees, sprints, crunches, push-ups, walking lunges, one legged bridges, and walking knee-pulls.
If you've been to Adventure Days in either Fayetteville or Oak Hill this summer, you've probably seen the agility course Active SWV has set up. To make your own version, here are some ideas for DIY obstacles using minimal equipment that can help you make that happen. Use any or all of these suggestions to make a fun temporary agility course.
Make hurdles out of pool noodles and pencils/chopsticks to hold them in the ground. Stick one end of the pencil/chopstick in the ground where you want the edge of the hurdle to be, and put the end of the pool noodle over the end that's sticking out of the ground. Bend the pool noodle over in an arc, and put the other pencil/chopstick in the ground so the noodle is secured at the desired height.
Set down a series of hula hoops on the ground in a row or two by two to run through. If you have asphalt and chalk, you can draw circles on the surface in place of hula hoops to minimize equipment.
Place anything on the ground for kids to weave around – rocks, cones of you have them, sticks, etc
You can mark the boundary of the course with cones. If you don't have any cones, try sticking sticks/pencils/etc in the ground and then connecting them with colorful tape or string so the line is visible.
Use some of the warm-up and cool-down stretch signs (below) interspersed throughout the course.
Lay a 2×4 or other board on the ground like a balance beam for kids to run/walk across without stepping off into the grass.
Use tree stumps, buckets, bricks, or something similar as stepping stones for kids to walk across
Place a tarp or blanket on the ground, and put stepping stone objects on the surface (rocks, buckets, pieces of cardboard, etc. Have kids try to get across without touching the tarp/blanket on the ground.
Tie balloons in a line on a string. Have kids jump over them, or tie the string between two objects and have kids duck under the balloons without touching them.
Put sticks or lines of colorful duct-tape on the ground parallel to each-other to bunny-hop across
If you have a playground available, incorporate elements of it into the course. Have kids go down the slide, weave through the swings without touching them, cross the monkey bars, etc.
Create a ground agility ladder out of pool noodles. Cut one noodle into equal pieces and attach those to two long noodles on the outside.
You can sub colorful-duct-tape secured to the ground for many of the ideas above! Make shapes to run through, start/finish lines, an agility ladder, arrows, course boundary, etc.
By participating in the agility course, kids are getting moderate-intensity activity as well as bone strengthening activity! For kids who run the course faster and harder, they are getting vigorous-intensity activity as well.
Have running motivated kids set goals for time or distance they can run each week. Running through the agility course counts too! This is also a great time to offer small incentives for completing small weekly or daily goals, like running 5 laps through the course, or running for 5 minutes without stopping.
Click here for some downloadable 'weekly workout' progressive runs to help kids get to a goal distance of a mile in 6-8 weeks. This information is from the Kids Run Club Manual, and the running workouts can be done anywhere.
Running can count toward the recommended daily 60 minutes of physical activity as moderate-intensity activity and/or vigorous intensity activity, depending on how hard and fast the run is.
After running and doing the agility course, kids can do some cool-down exercises to stretch out their muscles. This helps the body stay flexible and prevents soreness after being active.
Click here for printable PDFs of cool-down stretches. These include stretches for your abdominals, hamstrings, quadriceps, shoulders, triceps, hip-flexor, and groin.
Active SWV's Kids Run Club Program – At Home or at a School Near You
This fall, Active SWV is doing our second VIRTUAL Kids Run Club program! Any child may participate – the virtual program is designed to be easily done at home at your own schedule.
Active SWV is also going forward with in-person Kids Run Clubs at certain schools. We are following all CDC and health department guidelines as well as individual school policies to make the Kids Run Club environment safe for participants and volunteers. Check with your principal and teachers or email india@activeswv.com to see if there is a fall Kids Run Club at your school this year.