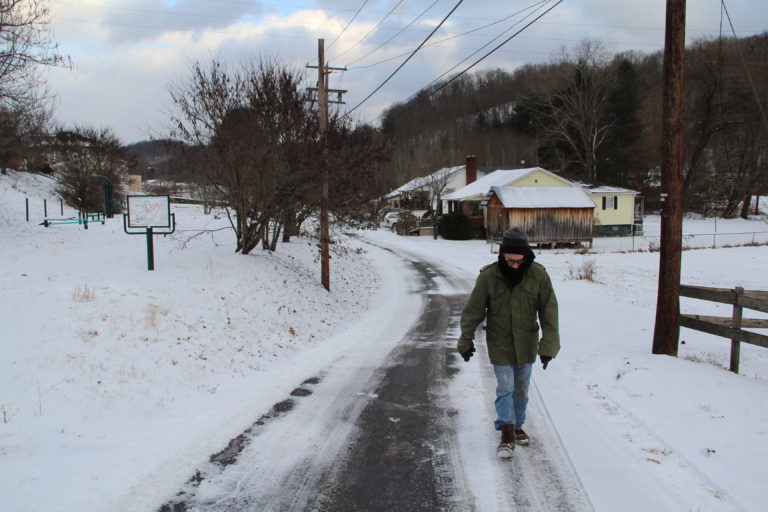 In early 2017, Active Southern West Virginia Community Captain, Levi Moore, announced a challenge for any willing participants. The challenge was to walk, run, or hike 1000 miles and keep track of it before the end of the year. Throughout the year, the Active SWV Facebook group readily received updates from participants. I asked Levi a few questions about the Challenge:
Andy: Where did you get the idea for the 1000 Mile Challenge?
Levi: I had seen other groups do similar challenges in the past few years. With the recent growth of Active SWV I thought it would be a good goal for those interested to strive for.
Andy: Did you expect to have much participation?
Levi: No, not really. I just wanted to try it out!
Andy: Do you know how many people accomplished 1000 miles?
Levi: 3 or 4 out of the approximately 70 who started posting in the group
Andy: Is Active SWV doing it this year?
Levi: Yes, but it will be a little different this year. Instead of 1000 miles we will be going for 800 in 2018. Its a more attainable goal for more people. But, of course, we hope people will keep going after they reach 800 miles!
Andy: How can someone who is interested find the Facebook group?
Levi: Simply search for "800 in '18" to find the 800 in '18 Walking/Hiking/Running Challenge group
One participant, in particular, seemed to post his updates the most often and the most steadily. Bill Bergendahl is a resident of Mount Hope and has been a member of the Active SWV Mount Hope walking group. Walking is part of his regular routine and he feels that it is an important part. Bill usually starts off his day by walking around the town. He decided to take part in the 1000 mile challenge and achieved the goal by May 26th! By December 2nd Bill had logged 2000 miles and by the year's end, he had walked 2155 miles (which is almost the same length as the Appalachian Trail)! Bill answered a few questions about his approach to meeting the 1000 Mile Challenge.
Andy:Why is walking so important to you?
Bill: I have done it for a long time and really enjoy it. The outdoors, the sun, being active, and getting out of the house are all reasons I enjoy it. I've been walking for more than 25 years, my day would not be complete without walking.
Andy: When do you normally walk?
Bill: I usually start around 6:30 am and get back around 8:30. I walk every day, there are only a few times when the weather stopped me.
Andy: Can you recall a particular time when the weather kept you from walking?
Bill: March 1993, "the storm of the century". There was snow up to my waist and I simply couldn't get out to walk.
Andy: Recently, you reached 2000 miles this year. As of today what have you walked this year?
Bill: 2087.5 miles
Andy: How many miles do you expect to reach by the end of 2017?
Bill: 2140 by year's end
Andy: Have you set a goal for next year?
Bill: When you get to be a certain age, you don't look too far ahead. Initially, I aim for 1000 miles, everything after that would be great.
[At my age] you certainly don't buy any green bananas, you go for what you know you can enjoy. I'll keep hanging in there and walking every day. I will look forward. You have to do your own thing. You have to stay within yourself.
Andy: Where is your favorite place to walk?
Bill: I may not have a favorite place, I just like to walk. The streets of Mount Hope are a nice quiet and safe place to get out and be active so I walk here.
Andy: When the Mount Hope Rail Trail is opened up, will you be likely to use it?
Bill: Yes, absolutely.
Andy: And do you think that other residents of Mount Hope will be likely to use the trail?
Bill: I would hope that they would take advantage of it. It may also bring visitors to the town.
Active Southern West Virginia is continuing to work with the City of Mount Hope to make improvements to the bike and pedestrian trails and accommodations within the town. Through its Bike/Walk SWV program, Active SWV would like to help other communities in southern West Virginia identify the best ways to connect people to places and encourage more physical activity. Active SWV wants to facilitate these changes by training volunteers to work with local leaders and realize shared goals for physical activity infrastructure improvement. If you are interested in how you can get involved in transforming your community into a healthier place, please contact Active SWV at info@activeswv.com
Join the 800 in '18 Walking/Hiking/Running Challenge today!