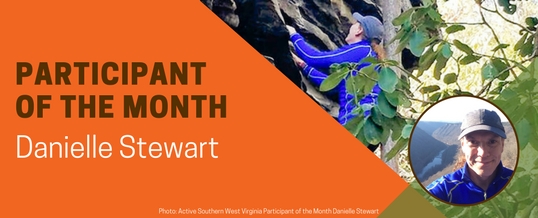 Active SWV would like to introduce Participant of the Month for May, Danielle Stewart. Danielle stays active by doing multiple Active SWV programs like Refit and hiking. We took some time to talk with Danielle about herself and why she is physically active.
Tell us a little bit about yourself and how you stay physically active?
I have always been a relatively active person. I was the kid who left the house in the morning on their bike and came back only for food! Although I really prefer to play sports, as I have grown older, it is harder to participate in the sports I like so I transitioned to more individual and group fitness opportunities.
I stay active by typically starting my day with exercise. I try to exercise 45 minutes Monday through Friday with three days of running/cardio (Monday, Wednesday, and Friday) and two days of strength training (Tuesday and Thursday). I supplement this with two of my favorite Active SWV activities: Hiking and Refit. I try to attend three Refit classes each week in the evening when my work schedule permits. Jennifer, Amber, and Elizabeth as well as the group of new instructors keep my heart pumping and body moving! Hiking is how I like to spend my weekends and I especially enjoy the long hikes with Levi at the parks and other locations. Being outdoors is great and meeting new friends at Active SWV events makes me enjoy them even more.
What motivated you to try an Active SWV program, and which programs have you attended?
I was motivated to hike with Active SWV because I wanted to be around other people that enjoy the outdoors as much as I do. That idea of a shared experience also motivated me to try Refit the first time. The class was good but it was the instructors and attendees that keep me coming back (I was very awkward when I started).
Do you have any word of encouragement for others that may want to become physically active and attend an Active SWV program?
Do not be afraid to try an Active SWV program! The people are awesome and the group leaders manage the events in a way that everyone can participate regardless of fitness level. The events are fun – but the friendship and sharing is what makes the programs so great! Come on out!