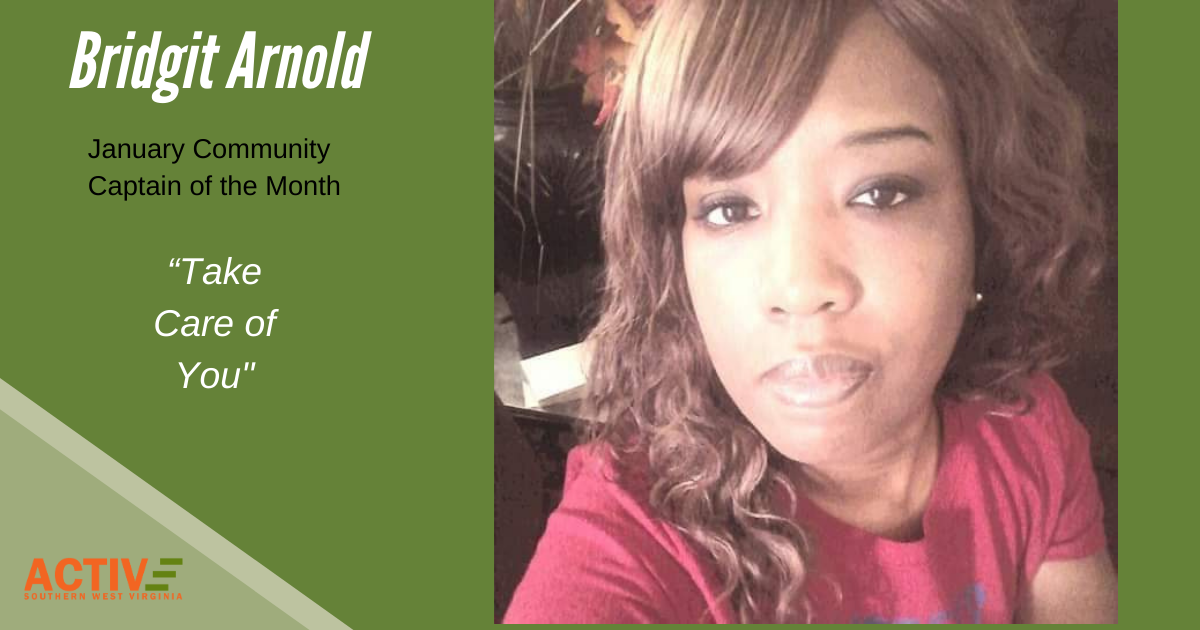 Active SWV would like to introduce you to our January Community Captain of the Month, Bridgit Arnold!
Tell us about yourself, where are you from?
I was born in Newark, New Jersey. I have lived in Beckley, WV for 28 years now. I am a Program Manager at Region 1 Workforce Development Board. I recently received my Personal Trainer certification through ISSA. I am currently working on my Corrective Exercise Specialist certification. I am very passionate about health and wellness.
What motivated you to volunteer/participate with Active SWV in your community?
I had some health issues back in 2019 which I overcame through the help of our Workplace Wellness Program initiatives at my job and through Active SWV. This program helped me so much. I wanted to volunteer with Active SWV as a way to giveback and encourage physical activity in the community.
How do you stay motivated?
I feel good and I have amazing energy by being active. That's what keeps me motivated. I want to maintain a healthier lifestyle so being active is a priority for me.
Why do you think someone should join an Active SWV free program?
It's free! It's a way to become healthier, stay active, and meet wonderful people.
Do you have any words of encouragement for people (thinking of becoming a Community Captain/participating in a program) that may be interested in committing to becoming more physically active?
Try something new. Active SWV has so many programs that you can benefit from. I guaranteed you will enjoy it and feel so much better. Take care of you!
Bridgit will be starting a new 6 week Walk With Ease program January 4th. If you would like to join Bridgit for this great opportunity follow the link below and use the 4 digit code to sign up for this great program.
WV.MyWorkshopInfo.com
Workshop ID: 2037
Check out our other programs here and online resources here.